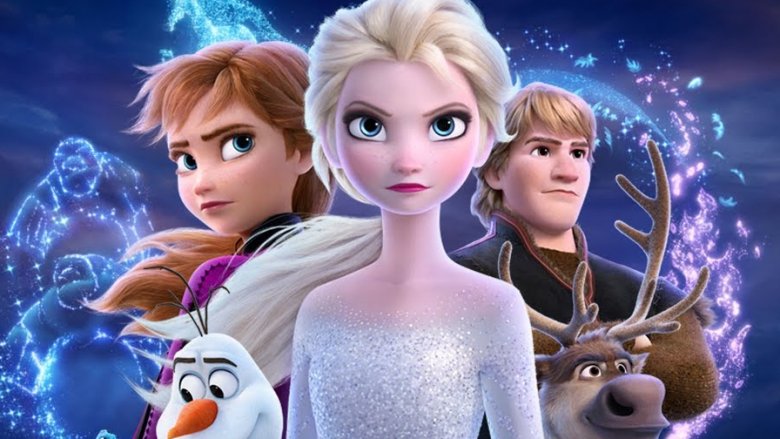 By Julia Wengier | Editor in Chief
December 11, 2019
"Frozen 2" was released on November 22, perfect for SCHS students beginning their Thanksgiving Break. As a sequel to the popular movie "Frozen," the film was highly anticipated among viewers of all ages.
Focused on seeking the truth, "Frozen 2" stars Anna (Kristen Bell) and Elsa (Idina Menzel) journey into an enchanted forest in hopes to save the kingdom of Arendelle. Many beloved favorites from the original movie return as well, including Olaf (Josh Gad), Kristoff (Jonathan Groff), and Sven. The movie has an all-new soundtrack, and branches out into new realms of the "Frozen" universe: a land of spirits, more insight into younger Anna and Elsa, and more backstory of their parents.
The cinematography makes the film a must-see, with aesthetically pleasing colors and effects highlighting its overall seasonal emphasis. New costumes, hairstyles, settings, characters, plot elements, and songs all separate "Frozen 2" from the original film in 2013, but many were surprised to find out that the music does not live up to the former movie's reputation. Although they are well-written, the new songs are not as stand-alone, making it challenging for them to achieve the same sense of a karaoke style as those from "Frozen."
Overall, the movie explores themes of truth, being true to oneself, change, courage, and the strength of family. Since the first movie, Olaf grew intellectually, now aware of both random trivia and of his inevitable doom. He provides both comic relief and important realizations to the audience (for instance, that enchanted forests mean transformation), while remaining everyone's favorite sidekick. The relationship between Kristoff and Anna grows, while Elsa grows as a strong, independent woman who "found herself."
"Frozen 2" is an emotional, delightful sequel for "Frozen" lovers, with a slightly underwhelming soundtrack, but illuminating visuals and refreshing new characters and settings.