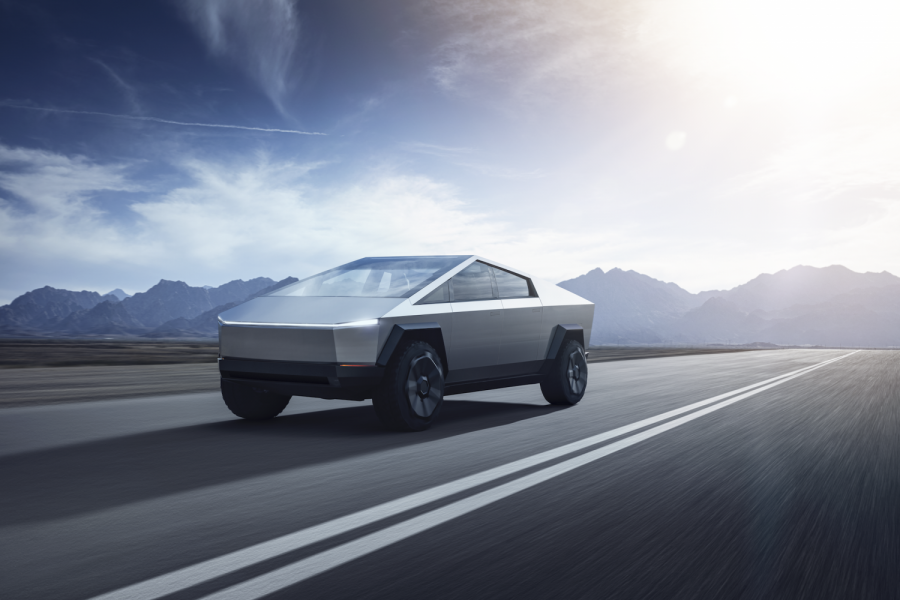 By: Brooke Donovan | WriterDecember 11, 2019
Elon Musk, the CEO of Tesla, unveiled a new electric pickup called the Cybertruck on Thursday at the company's design studio in Hawthorne. Looking little like traditional pickup trucks, the Cybertruck has a stainless steel exterior with a triangular roof. The futuristic truck looks like no vehicle on the market, ensuring it will stand out on the road. Musk said inspirations for the angular design include a James Bond car and fighter jets, and Tesla hopes this truck will rival Ford's best-selling F-150 line.
On Thursday, Musk took the stage to introduce the new car at an event in Los Angeles, but it didn't quite go as planned. The Cybertruck was promoted to be indestructible through all conditions, as well as bulletproof, but during a demonstration of the truck's toughness, Musk lobbed a metal ball at one of its windows, unexpectedly cracking it. He tried again on another window, which also cracked.
Just days after hosting the bumpy reveal event, however, Tesla secured 200,000 pre-orders of its new electric pickup truck, CEO Elon Musk tweeted Sunday. A day earlier, the Palo Alto-based automaker hit 146,000 pre-orders within the truck's first 48 hours. In order to pre-order the Cybertruck, customers had to pay a $100 refundable deposit, according to the company's website.
Automotive industry analysts say Tesla's pickup is more likely to appeal to weekend warriors who want an electric vehicle that can handle some outdoor adventure. But it could end up cutting into Tesla's electric vehicle sedan sales instead of winning over traditional pickup truck drivers.
"In my opinion, the new Tesla Cybertruck looks very futuristic, and I think that people are not liking it right now, but once it is on the road, then it will be more popular and more people will want to have it," sophomore Grace Manning said.
The vehicle's unconventional, sci-fi-style design divided opinions on social media, as some praised Musk for his "courage" in creating such a "fascinating" vehicle, while others labelled it as "ridiculous."
"I have never seen a car look this bad, and I hope that people will not drive this because it looks like it is from a video game," sophomore Skyler Math said. She viewed the cyber truck as "one of the ugliest cars that have been created."
While some absolutely hate it, others are fans. There are already 200,000 pre-orders of this car, so we will soon see it on the road.