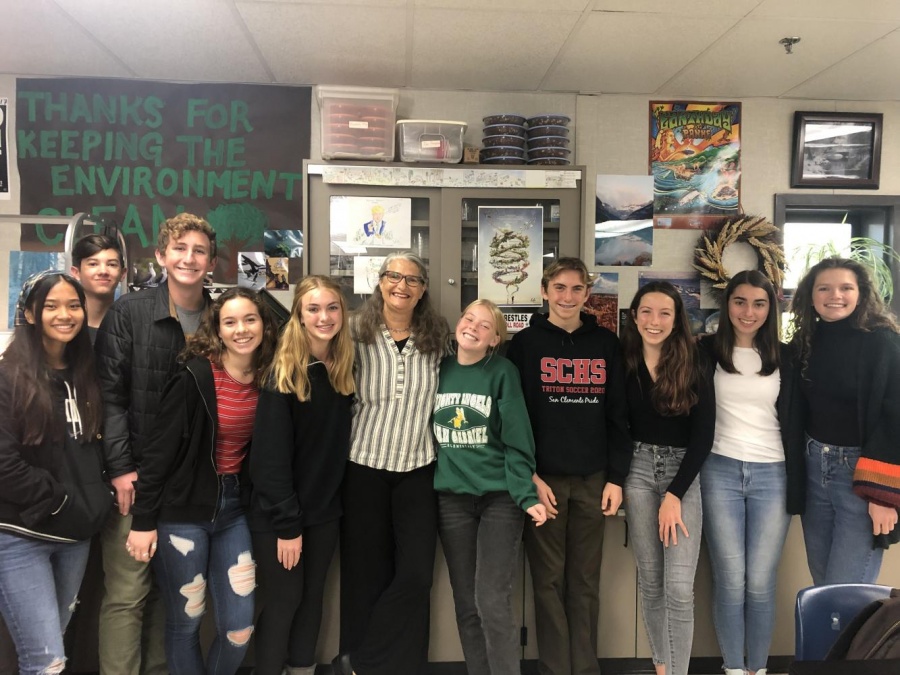 By: Kaitlyn Harsey | Writer 
January 14, 2020 
All of the following define Mrs. Kerr: AP Environmental Science and Honors Biology teacher, passionate field biologist, natural born leader, amazing teacher, caring mother, loving wife, and most recently, San Clemente High School's 2020 Teacher of the Year.
Once Mrs. Kerr heard the news she had won the teacher of the year award, she couldn't believe it.
"I heard [Mr.] Urquidi, Profè, and Mr. Young, the three members of the board, walking up the stairs to tell me after school," Mrs. Kerr said. "It was unexpected, I've never been selected, I was in shock, it's usually a popularity contest."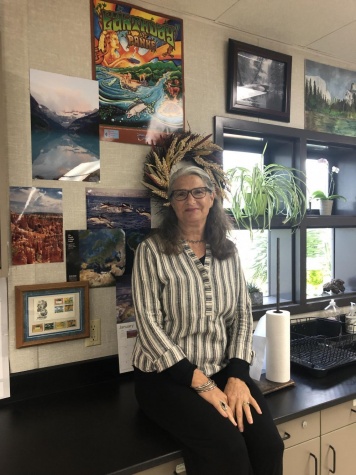 Mrs. Kerr isn't a clicky kind of teacher; she focuses on her students first. This is why she was surprised to win the so-called popularity contest. She went on to say that she "feels over all, honored" that her fellow peers chose her for this award.
Mrs. Kerr definitely deserved the award after teaching at SCHS for 22 years and for her time and dedication she puts into her students. On top of her dedication to her students, she also wrote the 500 page write up for the school's WASC report last year. Because of Mrs. Kerr, SCHS received the highest clearance possible: six years without further inspection. The Tritons have never earned that long of a clearance before, but because of Mrs. Kerr's hard work and commitment to SCHS, we achieved it as a school together. 
"I wanted to make sure all voices were heard," Mrs. Kerr said following the WASC clearance. "I put in the extra time getting to know the teachers and students and focused on celebrating the successes of SCHS. Those voices are what mattered."
Mrs. Kerr leads her students across the globe to conduct research and show the world to her students. She has traveled to Costa Rica, Yosemite, Iceland, and has an upcoming trip to the Galapagos this spring break.
Even students here at San Clemente agree that Mrs. Kerr deserves the award for her leadership, personal connections, and dedication to her students. "She's so passionate about what she teaches" San Clemente High School junior Gavin McAlpin said. "She shares her passion with all of her students."
"She's so understanding and kind," SCHS junior Luke Jones said. "She finds the most satisfaction from her students learning and being happy." 
"I wish I had her freshman year because she goes above and beyond for her students," SCHS junior Jasel Steinmetz said.  "Her genuine passion for environmental studies carries on through her students." 
Mrs. Kerr would like to thank her many colleagues that supported and believed in her the entire way. "Mr. Urquidi, Mr. Miller, Mrs. Reim, Mr. Kerr, Mr. Bailey (my campaign manager), and Mrs. Bennett…they always believed in me."
Mrs. Kerr's passion, dedication, hard work, and leadership has finally led her, after 22 years of teaching at SCHS, to win the 2020 teacher of the year award.