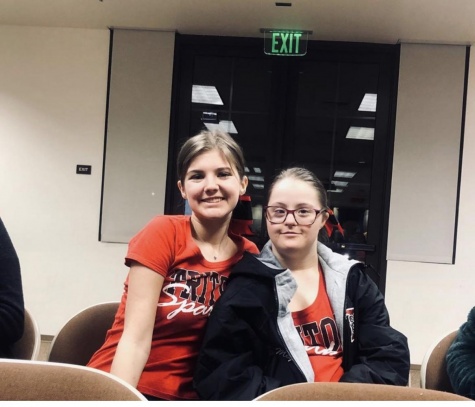 By: Kate Hedger | Writer
January 16, 2020
The Triton Sparkle Cheer Team at San Clemente High School is a team that includes members both with and without disabilities and has been involved in numerous events during their first semester as an organized team. From walking in the homecoming parade to having a booth at Puttin' on the Glitz, this team has been making their presence known in San Clemente.
One of the most exciting things the Triton Sparkle team has taken part in is the Special Olympics put on right here at San Clemente High School. The Special Olympics is a day of competition and fun for students who have intellectual disabilities. It gives them a place to play sports, compete, and be recognized for their own unique abilities and strengths.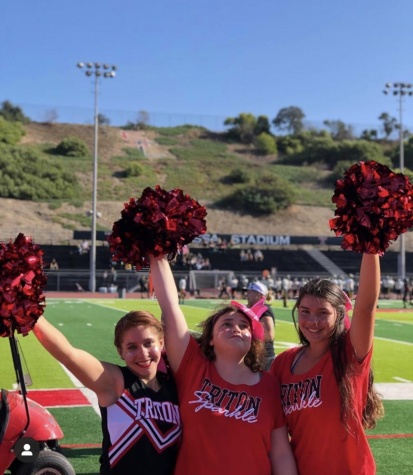 "One of the best parts about being apart of the Special Olympics was seeing how happy it made all of my teammates," San Clemente High School junior and team captain Riya Khetarpal said. "We all had so much fun cheering and seeing how excited everyone was to participate made it really special."
Another recent event that took place with the Triton Sparkle team was their performance at the Capistrano Unified District office on January 15, 2020. The Sparkle team along with their advisor, Loren Shrader, were invited to the district office to be recognized for the Extra Miler Award. The Capo School District  is "proud to recognize Shrader and Triton Sparkle team for their work to create an environment where all students can learn and grow together!" Currently, San Clemente High School is the only school within the district that offers an inclusive program such as this one. That being said, Shrader is working hard to inspire other schools to create their own sparkle squads.
"I thought it was really nice of the district office to present us with this award in person and let us perform for them," co-captain and SCHS junior Hannah Kouris said. "We all had a great time and it meant a lot to us that our team was being recognized."
The Triton Sparkle team is one of 220 teams offered at schools throughout the United States and they are hoping to encourage others to follow in their footsteps. Within the few short months of their existence as a team, the Sparkle squad has been able to accomplish so much and has enhanced the self-esteem of countless athletes while promoting social inclusion and school spirit.