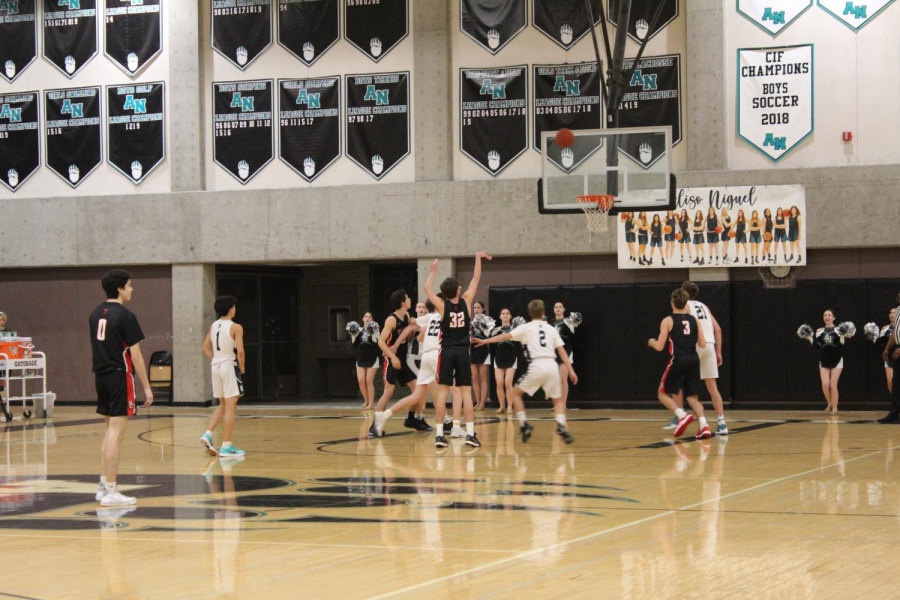 By: Makena Viera | Writer
January 24, 2019
Last Wednesday, the crowd went wild as our boys' varsity basketball team beat rival Dana Hills at home. 
The turnout was one of the biggest yet. Embracing the true San Clemente spirit, students and parents packed the bleachers dressed in all black for the blackout theme. 
"Ever since I was younger I've always gone to the basketball games and the crowds were never as big as they've been recently," San Clemente High School junior Cameron Kooper said. "The crowds are awesome, they really hype us up."
The team overall consists of 6 seniors, 11 juniors, and 2 sophomores. Led my coach Marc Popovich, their countless hours of practice, watching film, going over plays, and working hard has been paying off. So far their record is 3-1 in league and they are ranked 235th in all of California.
The victory was especially exciting because it was the boys' senior night. Naturally, the starting lineup was all seniors: Gavin Cuevas, Max Rumph, Micah Regalado, Matt Herrod, and Berk Harris. 
At halftime, the score was very close, but the Triton Sparkle team encouraged both the team and the crowd by lighting up the stage. Triton Sparkle is a new all inclusive team this year consisting of athletes with and without disabilities. With their cheering, dancing, and stunts, they truly brought a smile to everyone's face. 
Towards the end of the third quarter, the Tritons had gained a big lead but Dana quickly caught up by the fourth. With a close score, the last minutes were filled with suspense. The crowd was kept on the edge of their seats as the ball  traveled back and forth between teams, every shot more important than the last. With a final basket by Matt Herrod, the rival Dolphins were unable to shoot the 3-pointer they needed to tie it up. The Tritons won 50-47. 
"I love watching my brother Mash (senior Matt Herrod) play because it's fun seeing how he's improved since he was younger. I'm sure he can hear me screaming in the crowds!" sophomore Elizabeth Herrod said. "My favorite part is always the end of the games when it's super intense like this one but they somehow still manage to pull off a win."
The next home game is on Wednesday, January 29 at 7pm against Capo. Come support the boys with friends and family because they only have one more home game that you don't want to miss!