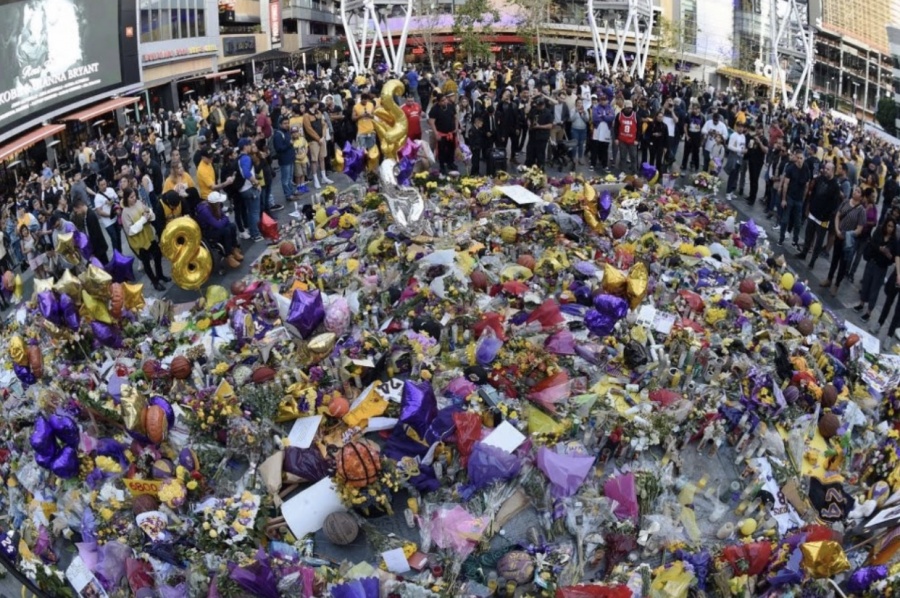 By: Tessa Van Winkle | Writer
February 6, 2020
The recent death of star basketball player Kobe Bryant and eight others in a helicopter crash left millions of people in shock. Fans are devastated and some still can't believe Kobe is really gone. The intense interest created a social media storm which included a video of a fiery helicopter crash claiming to be footage of the actual event. This was proved false, but only added to the horror and disbelief about Kobe's death.
"Growing up as a daughter of huge Lakers fans, I, along with the rest of my family, was shocked and saddened," San Clemente High School Girls Basketball athlete Sarah Smetona said. "Kobe left such an impact on so many people and his legacy will continue to live on."
Famous basketball athlete Lebron James, a close friend of Kobe's, fought back tears while vowing to work to continue his legacy. There was tremendous respect and admiration between the two legendary athletes. Illustrating this respect, Kobe's last communication with Lebron was a tweet encouraging and congratulating James for surpassing his point record of 33,643.
Kobe and Lebron shown laughing at a Laker game (Photo by: CBS Sports).
"Kobe's death had a huge impact on the basketball community because he did so much for both boys' and girls' youth basketball," SCHS's Girls' Varsity Basketball senior Ella Gardiner said. "He was also a great role model for all athletes because of how hard he worked to get where he was."
When the fatal crash occurred, Kobe and the others traveling with him were on their way to his Mamba Sports Academy in Thousand Oaks, where he would be coaching his daughter's basketball team. Kobe's use of the phrase "Mamba mentality," describes his hard work ethic and vow to never give up. This is the legacy that Kobe intended to leave behind and the one which his friends and fans hope to continue in his memory.
The Bryant family and the Lakers intend to hold a memorial at the Staples Center where Kobe played on February 24. This date is symbolic because 2 was Kobe's daughter, Gigi's, basketball jersey number and 24 was Kobe's. The 20,000 seats will be full with many more people wishing they could attend.