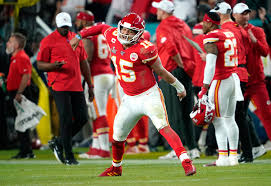 By: Piper Biolos | Writer
February 5, 2020
The Kansas City Chiefs are Super Bowl champions after defeating the 49ers in an epic fourth quarter comeback this past Sunday at Hard Rock stadium in Miami Gardens, Florida. It was a close match up between the two teams, but last year's MVP, Patrick Mahomes, led the Chiefs, after being down 20-10 in the third quarter, to win their first Super Bowl title since 1970.
At the beginning of the game, the 49ers were making good offensive plays, going up 20-10 in the first three quarters, and their defense earning two interceptions, changing the game in favor of San Francisco. The Chiefs defense was struggling to keep Garoppolo and his offense out of their end. Mahomes had not thrown an interception throughout the Chiefs playoff run, but proceeded to throw two during the game. In the beginning of the fourth quarter, Mahomes threw his first touchdown pass of the night, a crucial drive for Kansas City to answer back. 
Then, the comeback began.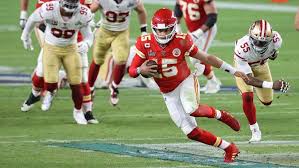 After the 49ers punted on their next drive, Mahomes led an 83-yard march to the end-zone to bring the game to 49ers 20, and Chiefs 17– a match that could possibly end in two different ways.
After another San Francisco punt, Mahomes had the ball in his hands again late in the fourth quarter and threw a 38-yard bomb to his wide receiver Damien Williams to get the Chiefs back on top, with a 24-20 lead, and not much time left for the 49ers to secure a win.
The 49ers tried to get their team back together, and earn one last touchdown that would place them as champions, but there was not enough time. Kansas City scored again, after a bad throw by San Francisco's Garoppolo, and an interception by Kendall Fuller, who added another seven points to finish the game at 31-20.
"It was such an exciting game and the halftime show was awesome!" San Clemente High School senior Rylee Knapp said. 
Mahomes, already the youngest NFL MVP in league history, had snaked another title of being the youngest Super Bowl MVP in history as well.
"Mahomes deserved MVP, he led the Chiefs all the way to the win," SCHS junior Joey Madison said.
The Super Bowl LIV did not disappoint, and many are getting ready for the start of the next football season, hoping their team will get a chance at a title.