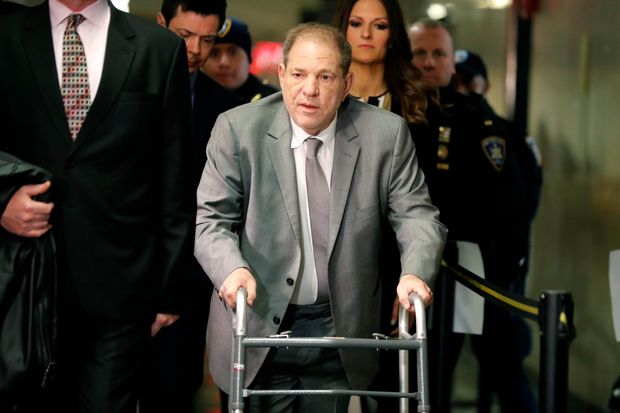 By Maile Benumof | Writer
March 13, 2020
This past Wednesday, March 11, 2020, Harvey Weinstein was sentenced to 23 years in prison following his rape trial, where he was found guilty of first degree criminal sexual act and third degree rape. 
Weinstein is a huge film producer with movies like Lord of the Rings, Kill Bill: Volumes 1 and 2, The Adventures of Shark Boy and Lava Girl, and 47 Meters Down under his belt. He has five children, a wife, and multiple criminal charges that will lead him to likely spend the rest of his life in jail. His declining health was put on full display when he appeared in court on Wednesday in a wheelchair. 
Weinstein also faces felony charges of forcible rape, forcible oral copulation, sexual penetration by use of force and sexual battery by restraint in Los Angeles. Prosecutors say he raped one woman and sexually assaulted another in separate incidents over a two-day period in February 2013. Weinstein says the the most difficult part of his conviction has been that his three oldest children have not communicated with him since the allegations were first presented in October 2017.
"He [Weinstein] is scum," San Clemente High School senior Connor Morin said. "He got what he deserved."
This case was fueled by the global #MeToo movement that encouraged women who who were victims of sexual abuse to speak out. Weinstein was surprised by the convictions from women  who accused him, namely Jessica Mann, Lauren Young, and Dawn Dunning. He maintains the statement that "I really, really was under that impression that I had that kind of relationship, five years with Jessica," he said. "I'm not going to say these aren't great people, I had wonderful times with these people, you know," he added of his accusers. "It is just I'm totally confused and I think men are confused about all of these issues."
Weinstein's defense attorney argued against the 23 years that he was given, instead proposing that 5 years in prison would've been enough, given his health conditions. On the other hand, victims of Weinstein's abuse are happy with the knowledge that he is behind bars and can finally relax knowing that he cannot hurt other women in the way that he has hurt them. 
The case is a step in the right direction towards keeping sexual predators beneath the law, and keeping women everywhere feeling safe and less fearful in their daily lives.