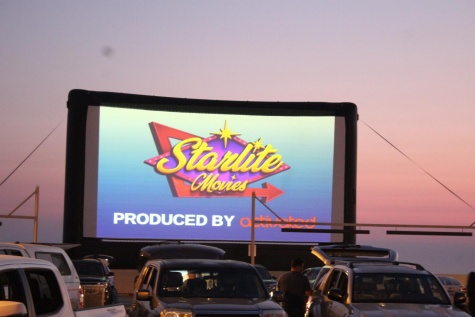 By Kaitlyn Harsey | Editor
October 4, 2020 
San Clemente is hosting pop up drive-in movies at the Outlets! The pandemic has increased the popularity of these pop-up movie screens because they are a safer way to stay socially distanced while enjoying a family friendly movie.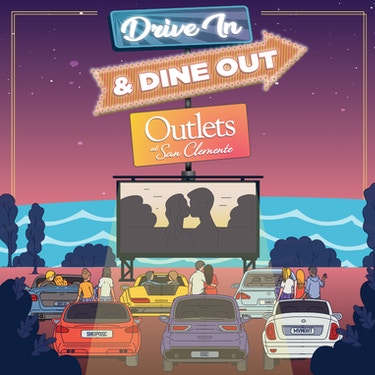 Upon arriving at the venue at six P.M., you are greeted by kind staff that directs you to a parking spot. The staff helps you pull into a parking spot to assure you have a clear "window" view of the screen. "I would describe it as a zig-zag formation," sophomore Hannah Harsey said. "We got a parking spot right in the middle of the lot, and the view was nice and clear."
After parking and getting settled, you have an hour and a half to roam around the SC Outlets and enjoy their dining and shopping. The Outlets has many restaurants to offer like Ruby's, Slap Fish, and Blaze Pizza, or maybe if you are in the mood for dessert, they have the Rocky Mountain Chocolate Factory or Ruby's Ice Cream Parlor. "We definitely had a good amount of time to get food before," sophomore Eowyn Wagner said. "Originally I got worried because the food took a bit for it to come out, but it came just in time for us to walk back to our car." 
Once the movie starts around 7:30, the parking lot lights and car lights are turned off for the enjoyment of the movie. In order to listen to the movie, the viewers tune into an FM radio station, either with their car radio or a personal battery powered radio. Personally, I would recommend a battery powered radio, so you don't have to worry about your car dying. Be sure to keep the volume minimal, so that it doesn't echo between cars. After the movie has ended, the lights are turned back on and everyone carefully exits the parking lot.
"It was totally worth it because we got to enjoy a movie even though the theaters are closed," senior Savannah Marshall said. "We were in our own cars having fun which was nice not having to worry about social distancing." If you have never been to a drive-in movie before and would like to attend one nearby, the SC Outlets drive-in is a great choice.