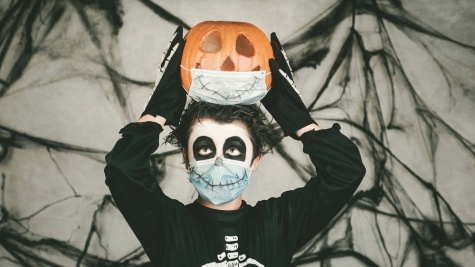 By Eden Milligan | Head Editor
October 4, 2020
Halloween is arguably the best holiday of them all for its creativity, its thrill, and its uniquely October traditions. Who doesn't love trick-or-treating, Knott's Scary Farm, and costume parties? Well, probably a lot of people who aren't into horror, but for the rest of us phobophiles (yes, there's a word for it: phobophilia is the love of fear), Halloween is exciting and different—a day where reality disappears and the whole world becomes a mystical land of ghouls and beasts. Halloween has it all: the gift component of Christmas, seen in whole blocks of houses handing out free candy, the social aspect of the fourth of July, in that everyone gets together with close friends to enjoy the celebration, and something distinctively its own: the ability to be anything for one night. Unfortunately for All Hallows Eve lovers like myself, the perfect holiday will undoubtedly look very different this year, and not just because it lands on a full and blue moon. Watch out, werewolves and vampires. A new monster has arrived that may make this Halloween the scariest one yet. It doesn't have horns, or fangs, or claws, but COVID-19 sure is frightening. 
If you've ever walked down Avenida Barcelona on October 31st, you'll be familiar with San Clemente's tradition of shoulder-to-shoulder crowds moving in swarms towards each creepily decorated house. The crowding is so intense that one year, my costume included big feathery wings, and I could barely move around my neighborhood. Now that everyone sees the world through a new norm of social distancing and safety precautions, just thinking about the usual crowds is enough to give any concerned American chills. However, there are ways to still enjoy a fun Halloween without creating a horrible spike in COVID cases. 
In response to the confusion of celebrating a holiday during a pandemic, halloween2020.org was created in alignment with the CDC's Halloween recommendations, which provides a color-coded map of COVID risk across the world, and offers activity recommendations corresponding to each color (red through green). The orange activities relating to the US's place on the scale include a "Dress up Week" and "Halloween in Reverse." The latter option is particularly interesting; it proposes that kids in costume should line up (socially distanced) along the block, while adults drive by and drop candy into their bags. For San Clemente, which is in the yellow zone, even more creative options are offered. Some of the stand-outs are "Yeet the Treats," in which adults would chuck candy at kids from six feet away. This method doesn't sound very safe to me, but hey, if it's on the official Halloween 2020 website, it must be okay…right? 
Halloween is a creative holiday, so naturally, people are getting creative with ways to safely celebrate. Socially-distanced trick-or-treating setups are all over social media, as everyone is trying to figure out a way to uphold their traditions without compromising safety. A notable mention is the growing movement of people creating candy slides: six-foot long shoots that allow candy to reach eager kids without breaking social distance regulations.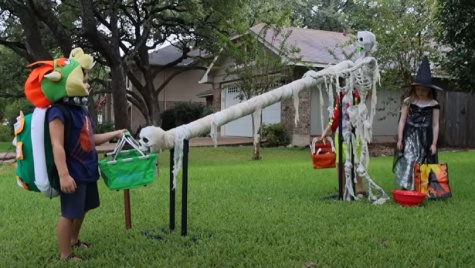 Some people are too involved in Halloween festivities to part with their beloved traditions, so they just have to figure out ways to make it work! "We run a haunted house in our driveway, and we have been doing it for about seven years. It's equipped with chainsaws, smoke machines, strobe lights, a metal grinder to create sparks, and a custom platform that allows you to lean forward and be at an angle above people," freshman Lilly Mokler said. The Mokler family is not ready to give up their haunted house, which is cherished by the neighborhood. Instead, they are brainstorming ways to make it safe. Although "the line can sometimes take over the whole block," Lilly said, "I guarantee if we hold up a chainsaw, people will back up pretty quickly!"
For the high school age group, trick-or-treating guidelines aren't exactly a concern. (Though if you do trick-or-treat at this age, good for you!) Most teenagers are wondering whether or not it is safe to meet up with friends or attend a Halloween party. The answer: sure, but be smart about it! The CDC recommends keeping risks to a minimum by meeting outside, wearing masks, staying socially distanced, and making sure everyone in the group is taking the same preventative measures that you are. 
Jonathan Burgos, a freshman at SCHS, plans to have a small get-together to celebrate Halloween, which also happens to be his birthday. He prefers to play it safe, by only inviting people that he has "been in quarantine with." This strategy is relatively low-risk, and it's a great way to enjoy the social aspect of Halloween while being continually cautious. However, it is doubtful that every teen will give up the big parties many are so accustomed to. 
"Knowing most of the people in our grade and in our school, I don't think most people will be social distancing. There might be a few masks, but honestly I can't exactly see anyone committing to that," said junior Michaela Pometto. It does seem highly plausible that many SCHS students will simply choose to ignore the crises at hand and have a Halloween like any other. "I believe we should all be cautious of the risks and take COVID-19 seriously, but not allow it to control our lives and prevent us from doing things that make us happy," Pometto said.
I completely agree, though I have my doubts about how "cautious" students will really be this Halloween. With on-campus learning starting soon, it will certainly be interesting to see if San Clemente residents will take precautions, or if Halloween will be followed by a spike in cases that could push us out of the school-safe bracket. I suppose the outcome is entirely up to us, which is why it really is important to be as safe as possible.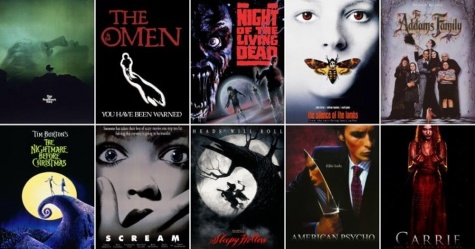 Of course, the best way to limit the risk of transmission is to avoid interaction with people whenever possible, meaning the safest option for this year would probably be to pass up on parties altogether. But hey, you could still have a great time dressing up with your family or a couple of close friends to binge-watch horror movies (like my personal favorites The Shining, Hereditary, and Get Out)! 
Halloween this year will definitely be memorable, and it has the potential to be truly great. After all, Halloween is all about imagination and eccentricity; if people expand their creative thoughts beyond the costumes and decorations and think about creative new ways to adhere to COVID regulations, the 31st does not have to be any less fun—or more scary—than it normally is.