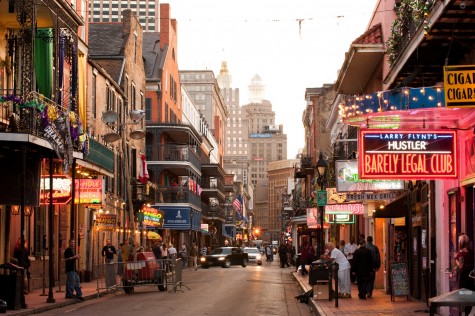 By Claudia Pacheco | News Editor
March 3, 2015
February 17th, marked the celebration of "Fat Tuesday" or Mardi Gras for those looking to feast and party before the start of Lent.
The Mardi Gras festivities fall on the day before Ash Wednesday, a day that for many Christians signals reflection, prayer, and fasting for 40 days until Easter. Knowing that they soon must abstain from something they love, many Roman Christians, most widely seen in New Orleans, take to the streets to get all of the partying out of their systems.
They join in carnivals, dress in eccentric clothing, watch parades, and indulge in their favorite food. Street flockers often decorate themselves with colorful masks and wacky face paint. Out of all of the flashy decorations, however, the most defining accessory of Mardi Gras in New Orleans is beads worn around the neck.
Many celebrators urge that a wearer must "earn their beads" by pumping up the crowd and displaying their enthusiasm in the most extravagant ways possible.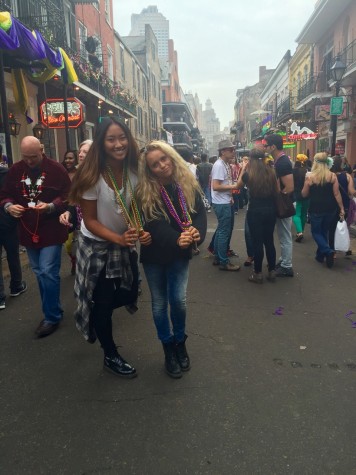 Junior Natalie Nasongkhla traveled to New Orleans last week with her best friend Malia Ward to experience Mardi Gras. "It was literally one big party on the streets. Beads flying everywhere, crowds of people, and lots of dancing," she described.
Nasongkhla was stunned by the sea of wild street performers and talented jazz musicians surrounding her. As far as the regular partiers behaved, she remarked, "the people around were always friendly … Sometimes a little too friendly."
Nonetheless, Nasongkhla embraced the "passion and energy filled" atmosphere of Mardi Gras. She never experienced anything close to the streets of New Orleans here in San Clemente, and "Fat Tuesday" is a day she claims she will never forget.
One can only hope that the Mardi Gras enthusiasts partied themselves out enough to now saddle up and get back to the grind of real life and responsibility. According to Nasonkhla's accounts, it sure seems like they did. 'Til next year, Tritons. Let the good times roll!