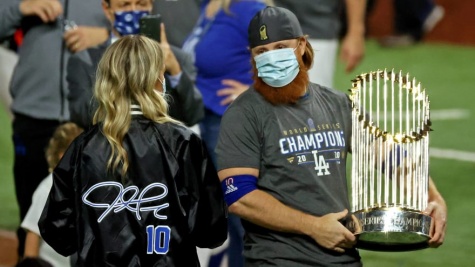 Danielle Generaux | Student Life Editor
November 5, 2020
32 years.
Los Angeles has been waiting for this for 32 years.
The Los Angeles Dodgers are World Series champions after a Major League Baseball season unique from any other, beating the Tampa Bay Rays 3-1 in Game 6 to take the best-of-seven series.
However, this win was obviously different as it came during a pandemic at Globe Life Field in Arlington, Texas, in front of a limited crowd of predominantly Dodgers fans. Additionally, two weeks ago the Los Angeles Lakers won the NBA championship for the first time in 10 years.
But overshadowing the win was star third baseman Justin Turner. After testing positive for Covid-19, Turner, the Southern California native, had to be pulled in the middle of Game 6. Initially, Turner decided not to join his teammates for the post-game festivities on the field and tweeted, "Can't believe I couldn't be out there to celebrate with my guys!" Eventually, however, he returned to the field to celebrate. He hugged his teammates and posed for pictures with the team and frequently was shown not wearing a mask. This resulted in backlash on both the Turner and the Dodgers organization.
"Justin Turner had tested positive for COVID briefly before the Dodgers won it all, and I was shocked to learn this after the game that he was out on the field celebrating with his teammates after testing positive," said junior Kristian Rorvik.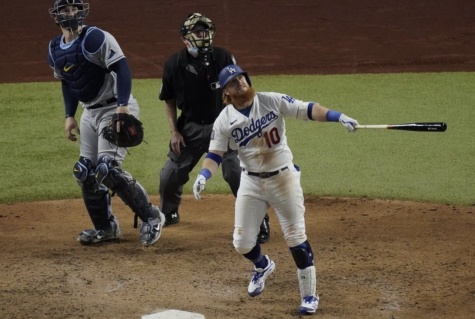 Mookie Betts, Turner's teammate, defended his decision and stated, "He's part of the team. Forget all that, he's part of the team. We're not excluding him from anything."
After the game, Andrew Friedman, who is the operations president of the Dodgers, told reporters that he did not "think there was anyone that would stop him from going out" on the field. He added that Turner was careful to not mingle with people he "hadn't already been in contact with." However, he said that he did not keep and eye on Turner in the winning celebrations. Turner did not travel with his team on Wednesday, when they returned to Los Angeles.
"Justin Turner had played the majority of the game with his team already before being called out of the game. They would already have been exposed to him. I believe that his decision to celebrate with his team was justified, as the winning of the World Series was surely the most important event of his life," said junior Lucas Rapeepat.
The commissioner's office of MLB (Major League Baseball) is conducting an investigation and both final teams, the Rays and the Dodgers, were tested for Covid-19 again. Since the league championship series and the World Series, Turner became the first MLB player to test positive for Covid-19. He tested positive even with the Covid-19 restrictions which included neutral stadiums to reduce travel and mask mandates.