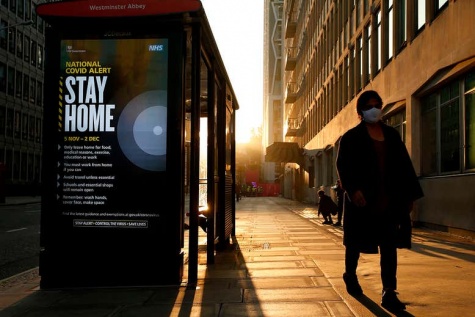 Eden Milligan | Head Editor
November 6, 2020
Prime Minister Boris Johnson recently announced that England is enforcing a second national lockdown, effective November 5. Johnson said he wishes to prevent a second spike of Covid 19 in anticipation of the holidays. "Christmas is going to be different this year, very different, but it is my sincere hope and belief that by taking tough action now, we can allow families across the country to be together," he said in a speech on October 31.
This new lockdown means that life in England will basically return to the way it was in late spring. Gyms, nonessential shops, restaurants, and entertainment centers will be shut down until December 2. People are discouraged from meeting with friends, although it is permitted to meet with one member of another household in an outdoor space, given that social distancing guidelines are followed and masks are worn. The only major exception to this lockdown that was not seen in spring is that schools and universities will remain open.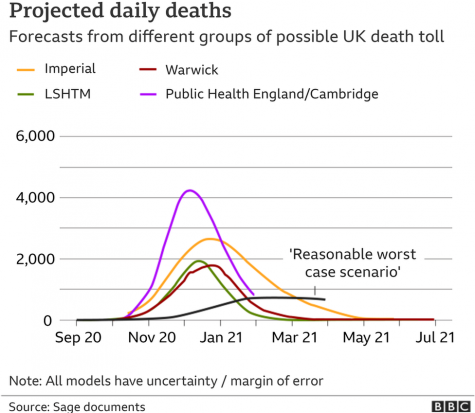 Johnson's decision was largely influenced by data released by Cambridge University that shows Covid deaths spiking at 4,000 a day by early December. This would be a spike far greater than the previous peak of deaths in April, which reached just over 1,100. According to one document, "median peak infections are projected to be 50% to 150% greater" than in the first wave.
Beyond the sheer spike in predicted deaths, health and government officials in England are worried about a total collapse of England's health system. Currently, there are more than 10,000 Covid-19 patients in hospitals across England, with almost 10% of those patients on ventilators. The number of Covid patients in hospitals has grown dramatically; only one month ago, there were 2,000 total Covid patients in hospitals.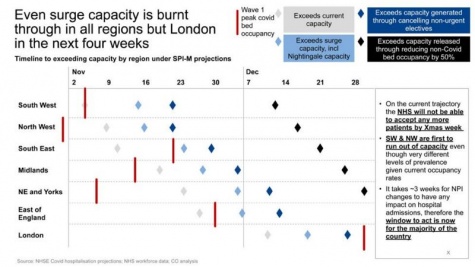 Understandably, many English citizens are distressed over the recent news. Small businesses will be especially affected, though the prime minister announced that the UK will continue the furlough system, by which the government will pay 80% of impacted employees' normal salaries. Though this system worked fairly well when it was first introduced in March, it obviously is not ideal, as it can still be difficult for small companies to remain in business after weeks with their doors closed. Another misfortune for the British is having to cancel or postpone holidays. Almost all travel in the UK is banned, including overnight stays in hotels and stays with family members. In addition, international travel is being shut down once again. Germany and Sweden were recently taken off of the safe travel list to the UK, and a mandatory 14-day quarantine is being enforced for everyone returning to the country after 4:00 am on November 7th. 
Most of the world is experiencing the same Covid trend right now: a second major spike in cases and a rapid increase in deaths. While England, other parts of the UK, Germany, and France are entering new phases of increased restriction, other nations like our own are not making any changes to combat the recent spike. To most Americans, a second lockdown probably seems unrealistic, especially with Thanksgiving right around the corner. 
Although the US is currently leading the world by far with Covid deaths and cases (our death rate of 241,000 is almost twice as high as India's in second place), it seems many Americans are fine with the trajectory we are currently on. When asked if she was worried about the second spike in cases and deaths in the US, sophomore Rachel Millard said "No, not really." However, she does plan on staying away from her family this year for Thanksgiving to avoid putting her grandparents at risk. 
Other students have found ways to still make family reunions possible without the safety risk. "We had my dad's birthday last week," junior Charlotte Fuertes said. "We got together but stayed distanced in our backyard and had a barbecue around the island, and everyone stayed on their own side of the island." She was happy to enjoy time in person with her family members in a safe and cautious way. 
Although England was not the first European nation to renew lockdown restrictions, some worry that such an extreme measure is unnecessary due to possible inaccuracy of the data that influenced Johnson's decision. On November 4, the day before the start of lockdown, there were 492 deaths. To some, it seems highly unlikely, even inconceivable, that there could be an acceleration in deaths from half a thousand to the predicted 4,000 in just one month.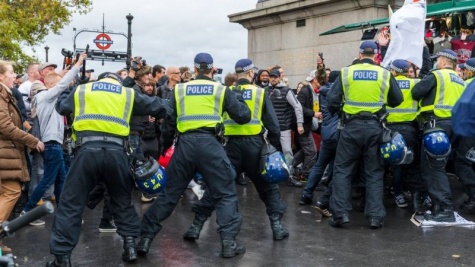 Regardless of whether the lockdown is justifiable or not, it is now in full force. On the first day of official lockdown, 104 people were arrested in London for breaking regulations and deciding to meet. They "will have to face the consequences of their actions," the Metropolitan police said.
Though there has not been a calm moment since March in terms of Covid-19, these times are particularly trying. The moment that people have feared and hoped to avoid the most, the dreaded "second spike," has finally arrived like one of Jack Skellington's gifts just in time for the holidays. In recent months, the meaning of family has been totally turned upside-down as loved ones have been forced to stay distant. However, it seems like the true marker of how well a country responds to Covid will be how possible a family Christmas is. While the US is going the "just let it play out" route, England is doing whatever it takes to flatten the curve and safely reunite families once again.