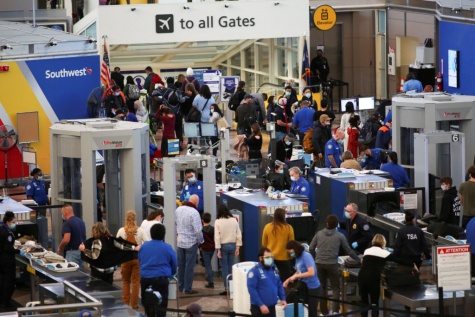 Harrison York| Head Editor
December 6, 2020
As hope for the approval of a COVID-19 vaccine mounts, the United States has experienced a massive surge in cases following Halloween, and a similar spike is expected due to Thanksgiving gatherings. 
California has been hit especially hard, this week seeing hospitalizations and new daily cases break records. An estimated 75% of ICU beds are currently occupied.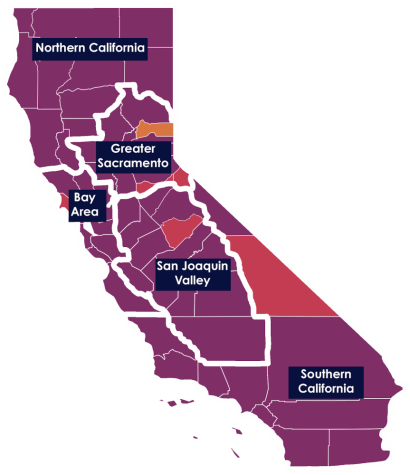 In response, Governor Gavin Newsom has reimplemented stay-at-home orders Thursday to push back against the spread which threatens to overwhelm ICU bed and hospital capacity by mid-December if the current pattern continues. The orders will affect areas where ICU bed vacancy is less than 15%. As of December 5, ICU availability in Southern California, the region to which Orange County belongs, fell to 12%, and lockdowns begin on Sunday.
Salons, gyms, indoor worship, and small businesses are to be barred from functioning normally. Restaurants can now only offer take-out or delivery. "We are being called to do everything in our power to make the kind of tough decisions that are required to get through the next few months," Newsom said.
Los Angeles County, with its population of 10 million, has already had a new stay-at-home order that began the Monday after Thanksgiving.
"We do have a choice to make, each one of us: Do we want to be part of the solution to this horrifying surge, or do we want to be the problem?" LA County Public Health Director Barbara Ferrer said. "Where you fall in this effort now has a life-or-death consequence."
Unfortunately, several of Ferrer's fellow political leaders have chosen to "be the problem" despite their constant advocacy for staying at home and avoiding others.
"This is a serious health emergency," LA County Supervisor Sheila Kuehl said before voting to ban outdoor dining at the county's 31,000 restaurants. Several hours later, she was eating at Il Forno, one of her favorite restaurants. In Kuehl's own words, she created "a most dangerous situation" by dining outdoors. 
Kuehl's visit to the restaurant was not the greatest threat to the livelihood of the owners, however, as they were forced—by the supervisor's vote—to shut down socially-distanced, outdoor operations a day later.
"Thousands of small businesses have gone under as a result of Covid lockdowns," junior Gavin Stay said. "Many struggle to feed their families and can't pay their bills, yet these political leaders who have imposed the lockdowns are carelessly violating their own rules." It is very discouraging for these families to watch their supposed representatives worsen their financial situation with additional restrictions on the economy and later act as if those same closures and recommendations somehow don't apply to them.
Governor Newsom (D) was caught in his hypocrisy when attending a birthday dinner in Napa Valley on November 6. Ignoring state guidelines that restricted such gatherings to three households, Newsom dined in a party of at least a dozen members. A witness who took photos of the group stated that they were so loud a sliding door had to be closed, partitioning Newsom and his friends from the other people at the restaurant.
Also present with Newsom was Dustin Corcoran, the CEO of the California Medical Association, and Janus Norman, a top lobbyist for the organization.
"I made a bad mistake," Newsom said in a news conference to Californians who had lost their jobs and closed their businesses—sometimes permanently—due to his orders. "We're all human, we all fall short sometimes."
Newsom's choice to actively go to the expensive French Laundry restaurant and sit close to his political and medical advisors, however, seems less an accidental short-coming and more a knowing disregard for his own mandates. It was "the kind of tough decision" that California's governor was not able to make.
"This hypocrisy undermines the call for shutdown. It's overall very disrespectful to the numerous business [owners who have struggled] to keep their businesses alive," senior Renee Robinson said. "In the future, Newsom, as well as the California Medical Association [members] need to set better examples."
But Newsom isn't alone. The very next day at the very same restaurant, San Francisco Mayor London Breed (D) was present at another birthday party, this time for 60-year-old Gorretti Lo Lui. She received similar criticism after reportedly dining with seven others from an unknown number of households.
"We're going to have to take more restrictive action and it pains me to say that," Breed said after the party when addressing stricter shutdowns being placed on San Fransisco.
Mayor Sam Liccardo of San Jose (D), after tweeting "let's cancel the big gatherings this year and focus on keeping each other safe" on November 25, proceeded to travel to his parent's home for Thanksgiving dinner. There, he celebrated the holiday with five households, breaking his own urgent rhetoric as well as California's mandatory guidelines, which state that "gatherings that include more than three households are prohibited."
"I apologize for my decision to gather contrary to state rules," Liccardo said. "I understand my obligation as a public official to provide exemplary compliance with the public health orders." For such a repeated message as staying away from large gatherings during Thanksgiving, one hopes that it would be easily followed by some of the loudest voices supporting it.
"That sends a message that we're getting direction from people that aren't really believing in messages they're making," Michael Voltaggio said. The Californian owns a restaurant that has had to close due to local leaders' decisions. People like Voltaggio are rightfully frustrated that their ability to run their business and make money to support their family and pay their employees is being stifled by Democrat leaders who act above the rules.
Willing to restrict the lives of others but not themselves, these elected officials are taking for granted the public's trust and compliance. At a time when we need to be unified in our efforts to combat the virus while ensuring the survival of businesses and the economy, we cannot have leaders that publicly take the high road and privately ignore the same restrictions they imposed on millions of others. 
"Their power and control is far overreaching and violates the rights of American citizens," Stay said. "Politicians should live by the same rules they create and their hypocrisy exposes their arrogance and belief that they're above the law."
If these leaders truly believed that they were at risk when dining at a restaurant or visiting with their families and friends, would they have made the same choices?