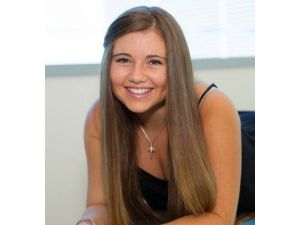 Martina McAllister | Writer   &    Taylor Beard | Sports Editor
April 24th, 2014
People do not consider the true meaning of the expressions, "You dont know what you have until its gone" and "It could all end any day" until they are forced to.  Last Tuesday, April 14, 2015, San Clemente had to face those two quotes head on as one of their very own had fought to the end. Saylor Voris fought a long and hard battle against Leukemia for 19 months.
592 days after her diagnosis, Saylor's life was taken from us. Saylor was only seventeen years old. She was a driven student and a wonderful cheerleader here at SCHS. Her courage and strength touched and inspired so many people around her whether she knew them or not.
The amount of fight inside her will always be remembered. No one will ever forget "The girl who had a stunning smile everywhere she went, even after being diagnosed," said senior, Gabby Cullen.
"Saylor was always so positive and upbeat, it seemed like nothing, not even cancer could bring her down." Junior, Megan Carroll says, "Saylor was not only my very best friend, but she was also my hero and my role model. I have never met anyone with so much hope inside of her and the ability to never give up."
Saylor was loved by every person she met and her death is truly a tragedy for the San Clemente community. It is no doubt that as a high school we are coming together to mourn her loss but we are also coming together to celebrate her life. On April 14th, students at lunch picnicked on the field to share memories and grieve with one another.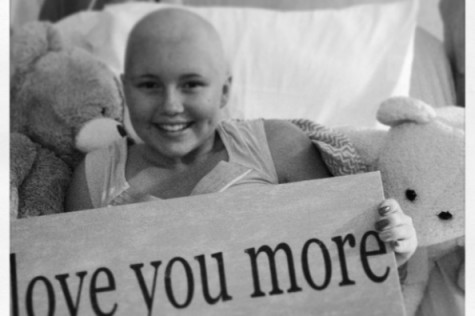 Later that night there was a lighting ceremony was held at the Voris's home in her honor. The street was filled with many people there to support with flowers, candles, and their love for the Voris family. Many people spoke out about how wonderful and amazing Saylor was and how her beauty and strength touched so many.
Junior, Morgan Bedard told the group at the ceremony that, "Saylor was the girl that was always there for me and I know that she is still there for me, just in heaven now".
The candlelight vigil was filled with aching hearts and teary faces. Saylor's story and courage brought the entire community together as evidenced by high school, middle school, and elementary students sporting orange this Past Tuesday and all week.
The day after tragedy struck San Clemente, the students at the high school gathered together in the school gym. Her life was honored and celebrated by close friends saying amazing things about her, Madrigals honoring her with a beautiful song, and the cheerleaders doing a send off for their friend.
Saylors service will be held at Compass Bible Church in Aliso Viejo on April 24th.It will also be live-streamed on the church's website for anyone that can not make it. Keep the Voris family in your prayers and remember Saylor as the fighter that she truly was.