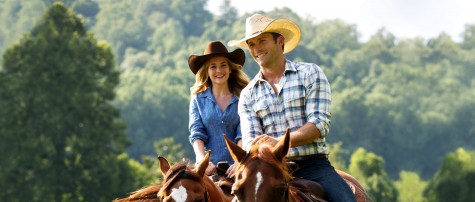 By Hannah Lickley| Writer
April 22, 2015
The Longest Ride is yet another example of an amazingly romantic Nicholas Sparks book being transformed into a heart-warming movie.
Directed by George Tillman Jr., this film will leave every girl wanting a cowboy and every boy secretly wishing he was one. Brilliantly depicting not one, but two deep love stories, this movie is enjoyable to most any audience. George Tillman and writer Craig Bolotin also include many hardships including traumatic injuries, death, and infertility to add drama and emotion to the plot.
The young bull rider, Luke Collins, and art enthusiast, Sophia Danko, meet by chance when Sophia steps out of her comfort zone to go to a bull riding competition. A quick match, the two almost immediately click. On their first date they save the life of a driver whose car had driven through a guardrail. The driver was Ira Levinson.
Sophia continually visits Ira, an old man filled with wisdom. He tells her the story of his past love, Ruth. Ruth and Ira's love story faces many difficult decisions and was a true example of the saying, "If you love someone set them free, and if they come back to you it's meant to be."
While Luke and Sophia's relationship continues to grow they understand how completely different the lifestyles they lead are. Trying to hold on to the love they have, they learn that relationships require sacrifice.
This movie is truly a chick-flick and doesn't disappoint when it comes to romance. I did not read the book before going to the film and had no preconceived notions of the movie, yet I felt completely invested in the plot line. It has the perfect fairy-tale ending the leaves you with a feeling of closure and security with their relationship.