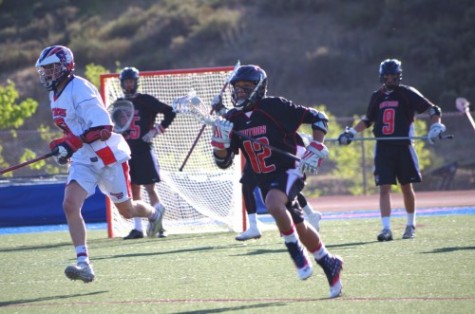 By Maisie Freeny | Writer   &   Brycen Dutchik | Writer
Spring is near, and so is the 2015 SCHS boys lacrosse team.
Our Tritons have something to prove after losing several key seniors last year. However, with a combination of experienced seniors and skilled underclassmen across its midfield, attackers and strong defensemen, the boys are assured they can make some noise this year.
As the kickoff to this season, the first JV game was on March 7th at Rancho Bernardo High School, resulting in a big win to bring spirits up. While varsity had their first win of the season at Newport Harbor High School, on March 12, ending with a 9-7 score.
With our JV boys fighting their way on, some returning and new players are trying to help the Tritons back to success. Freshman like Cam Huff, and Sophomores like Jack Szabo have an optimistic view for this season as well.
Cam Huff, #21, JV Midfield & Jack Szabo, #44, JV Midfield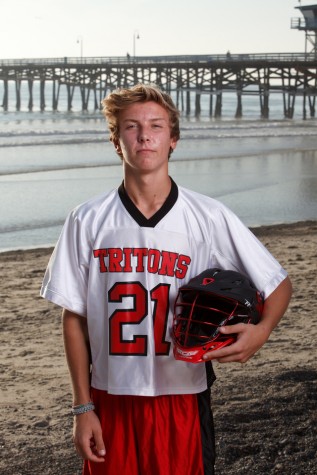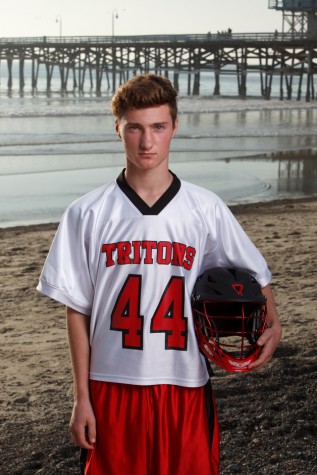 Q: What are some difficulties the JV Team might face this season?
 Cam- Working together on the field to make a play is a source of difficulty for us.
 Jack- Due to the overload of new players, our coach has spent a massive amount of time training them, forcing us to pick up the slack and practice what we know best. Getting the ball into a dodge will be less difficult as the new kids are starting to come around.
 Q: Is this your first season playing?
 Cam- Yes.
 Jack- This is my 11th year playing, and second season with SCHS.
 Q: What are you most excited for this season?
 Cam- I'm most excited about playing the sport together as a team, and the opportunity to meet new people as well.
 Jack- Im excited for the chance to be a leader as it will earn me more playing time, and i might be looked up upon.
 Q: What advice would you give to incoming freshman who want to tryout for the 2016 team?
 Cam- Lacrosse is a fun sport, and everybody interested should play at least once.
 Jack- If you want to tryout, start working out with a lot of running of and make sure to practice your stick skills against the wall.
 Q: For you, how much of a commitment is Lacrosse?
Cam- I plan on playing all four of my years here at SCHS and eventually to college, so it's definitely a commitment.
 Jack- Lacrosse is the only sport I play, so it is a huge commitment for me. I spend most of my free time practicing with my team or independently.
 Q: What kind of goals has the team set this season, and what are your overall expectations for the team?
 Cam- We want to build and better our team. I think we all expect everyone to show up at all of the practices since that's a key role in the development of a team.
 Jack- Our goal this year is just to develop and excel together as a team. Winning isn't exactly a priority to us, but It is an obvious goal as well.
 Support your SCHS JV team here at home, April 23rd at 5:30 followed by Varsity at 7:30.
What these boys have achieved , is what they remember every day and what they haven't yet achieved, Is the force that will drive them to success.