Maxine Davey | Editor in Chief
January 31, 2021
Deferred or rejected from your dream school? Scrambling to apply to as many back-ups as possible to cover all your bases? You're not alone.
The sheer volume of freshman applications at colleges and universities across the U.S. has upended the 2020-2021 admissions process.
In the Early Action (EA) pool, a nonrestrictive early application program, the University of Georgia reported a 27% increase in applications, and Virginia Tech and the University of Virginia reported 35% and 36% increases respectively.
Other schools' binding admissions program numbers—Early Decision (ED) and Restrictive Early Action (REA)—skyrocketed even higher. Columbia ED rates increased by 49% and Harvard's REA by an incredible 57%.
Even UC application numbers reached a record 250,000, a 15% increase from the 2019-2020 admissions cycle (LA Times).
As a result, admissions rates are plummeting and countless students are receiving surprising news of rejection or deferral.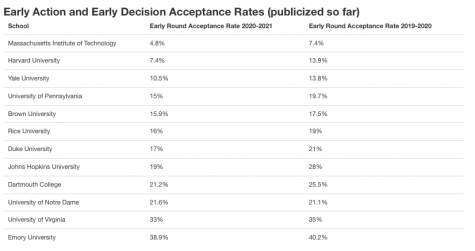 Senior Aidan Flynn planned on playing water polo and majoring in Environmental Science at Brown. She was deferred from an Early Decision pool of 5,540 students, a 22% increase from last year. Another senior, Gavin McAlpin, was deferred from MIT, where the number of Early Action applicants increased by 62% in 2020.
Why is this happening?
One important reason seems to be that schools have become test-optional or blind. As a result, students are more likely to apply to selective schools because their application is stronger without the test score comparison.
Additionally, many students from the 2019-2020 cycle chose to defer their admission start date to fall 2021 due to the coronavirus. These students are most likely filling spots that may have otherwise gone to 2021 high school graduates.
There are dozens of other possible reasons for the massive increase in applications this year, including more time at home to complete applications. "COVID gave me much more time [to complete applications]," Flynn said, "but took away time to involve myself in activities that I would add to my apps."
Additionally, students were unable to narrow their lists this year because they could not visit campuses, most likely increasing the number of schools they applied to (Flynn applied to 12 schools while McAlpin applied to 13).
"I think the reason the number of applications is so high this year is because students don't have the pressure of competing for the best SAT and ACT scores, [and] there's almost two years of students being unable to continue their usual sports and extracurricular activities," McAlpin said. "Overall, students will all look pretty similar on paper, so students who may not typically have the qualities that would stand out to high-level universities can blend into the other applications."
The college admissions process is only becoming more and more cutthroat and random. Still, the Triton Times wishes you luck as you wait for the many acceptance letters we know you will receive!