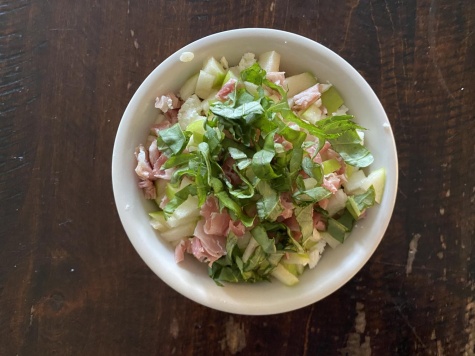 Gisele Brandt | Head Editor
February 7, 2021
After a long beach day, I am always hungry, so I often stop at Active Culture for a delicious grain bowl. My favorite has always been the SC Rice Bowl. It's dairy and gluten free and pretty healthy, but very expensive. If you're like most high-schoolers, you probably can't afford to drop $17.00 for a meal. I developed this recipe that is a near replica made out of ingredients you probably have at your house. If you are not a huge grain fan, you can adapt this recipe into a salad using the same dressing, toppings, and adding some toasted pine nuts! This recipe is extremely easy to make and the results are well worth the labor.
Ingredients: 
Dressing:
3 tsp olive oil
1 tsp flavorless oil (I use avocado)
½ tsp rice vinegar
¼ tsp salt
¼ tsp Dijon mustard
Lemon juice (less than one half of a medium sized lemon)
Honey to taste
Garlic powder to taste
A couple pinches of ground black pepper
Bowl:
1 cup of short grain brown rice
½ Granny Smith Apple
Prosciutto
Pitted dates
Basil
Feta Cheese (it's made of sheep's milk so there is no lactose)
Step One:
Rinse rice in a sieve until the water runs clear. Next add two cups of water to a pot and bring to a boil. Add washed rice, lower the heat, cover, and let simmer for about 45 minutes until rice is tender and the water is absorbed. Let the rice sit for a few minutes, then fluff with a fork. This will make extra rice that can easily be stored in a refrigerator for later uses (having extra rice in the fridge is very convenient because it is very versatile). If you would like to make less rice, the proportion of rice to water is 1:2.
Step Two: While the rice is cooking, assemble your dressing. Add oils, vinegar, salt, mustard, lemon juice, honey, garlic powder, and pepper to a small bowl and whisk. Adjust proportions to taste; if you like your dressing a bit more acidic, sweeter, or saltier, adjust ingredients accordingly.
Step Three: Dice approximately ½ of the apple. Cut prosciutto using food scissors. Chop pitted dates. Chop fresh basil.
Step Four: Assemble your bowl. Add rice (I use about ¾ cups of cooked rice) and desired amount of dressing to your bowl and mix. Top with apples, prosciutto, dates, basil, and crumbled feta. Give a final mix and enjoy!
Save any extras in the fridge!