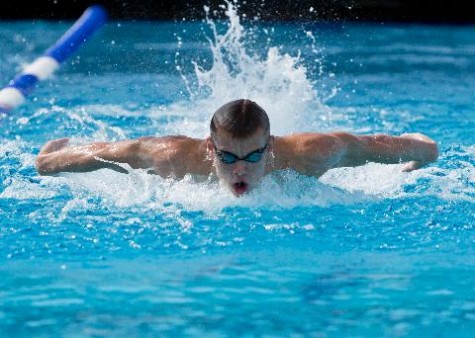 By Daniel Richens | Writer
April 23, 2015
Looking to put another league title under their belt, the San Clemente Tritons varsity boys' swim team is ready to face the challenges that are coming their way.
"We're focused on winning a league title," sophomore Brad Prolo said. "We're working really hard and we feel really confident."
Right away, the Tritons are 1-2-0 in league, most recently losing against Capo Valley High School, 580 (Cougars) to 344 (Tritons). This was a very significant match for the Tritons. The Cougars are their toughest competitor and one of their biggest rivals. Being that the Tritons had a tied record, the pressure was on. Senior Josh Swart explained, "This meet was important because it was the last meet for seniors so the last time we will ever compete in our home pool. "
The team's top swimmers, Joshua Swart and Aidan Pastel, take key roles to stack up the points for the Tritons. Josh's fastest time this season for the 100 yard backstroke is 51.79 seconds. Aidan's fastest time for the 100 yard freestyle is 46.44 seconds and his 50 yard freestyle stands as the quick time of 21.14 seconds.
Aidan, ranked 12th out of the top swimmers in California, has plans of swimming in college and going to the 2015 NCSA Junior Nationals. To do so, he must swim a qualifying time of 20.70 in the 50 yard freestyle. If he can match that in a league meet, the Tritons may be in line for a league title.
Josh also has plans of going to college for swimming. He is ranked 23rd out of the top swimmers in California. Josh swam a 50.18 in the 100 yard back stroke at the 2014 junior championship.
SCHS varsity boys' swim team will need to work hard to achieve their goal of league title. The talented swimmers in this group promise only good things in the future for this team.