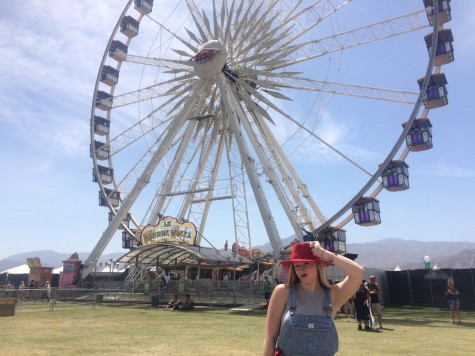 By Claudia Pacheco | Writer   &   Elke Kelly | Writer
April 22, 2015
These past two weekends, SCHS students of all grades flocked to the desert grounds of Indio, California in celebration of the Coachella Valley Festival of Music and the Arts. Headliners this year catered to almost
every music listener, like the rockstars AC/DC, DJs like Kaskade, and rappers like Tyler the Creator performing. These musicians make up just the tip of the iceberg of the many renowned artists who hit the six stages this year.
Ticket prices range from $375 for general admission to $799 for a VIP ticket, which grants access to special areas of the grounds that those with a general ticket cannot enter. Festival-goers either camp onsite in tents of all shapes and sizes or stay the night in a nearby hotel or house.
To get more insight on the true essence of Coachella, we interviewed Jack Renard (Senior) and Izzy Moiso (Junior) who experienced it first-hand.
For Renard, this was his second year in a row taking on Coachella, but he claims that camping on the grounds made this year a whole new experience for him. He told us that many SCHS students camped near each other, making it that much more unforgettable. Out of all of the artists who performed, Renard's favorite was Alt-J, because both the crowd and band thrived off the energy.
Along with the music, however, the intense heat of Indio also overwhelmed Renard at Coachella. He told us, "the one time I forgot to refill my water bottle I felt like I was going to die." As far as food went, Renard claims he, "was not a fan of how expensive it was, but it was worth it to have something other than just trail mix."
All in all, he considers his weekend at Coachella one of the best weekends of his life.
Izzy Moiso says she is glad that she chose to stay in a condo rather than camp at Coachella so she, "didn't have to wear the same makeup and not shower for four days straight." Many of her friends camped at the grounds though, so she still got the experience roaming from camp to camp.
Moiso's two favorite performances this year were AC/DC and DJ Snake because their performances made for, "great vibes, great music, great friends, and a hella good time."
As far as those partying around her, Moiso admired that everyone expressed themselves in their own ways. One of the stranger forms of self-expression she witnessed was a man who only wore flowers for underwear and nothing else.
With the music, art, and audience offering an experience like no other, Moiso claims that Coachella was nothing short of wild. By the end, she was exhausted, and claims that her feet still hurt a week later! While the soreness will fade, the indescribable memories of the festival will never leave Moiso.
Considering these phenomenal moments at Coachella noted by students like Jack Renard and Izzy Moiso, it seems like this is something all music lovers must experience at one point in their lives. Now, all we have left is to wait in anticipation of next year's line up!