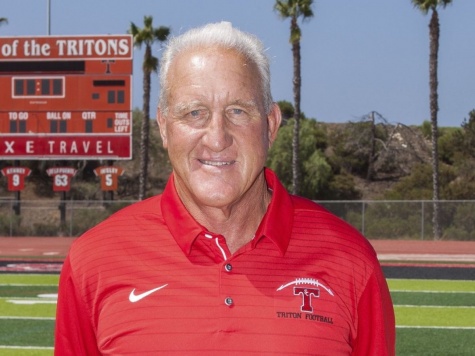 Eden Milligan | Head Editor
February 20, 2021
Last Friday, February 12th, 71 year-old San Clemente High School football coach Joe Wood passed away after an ongoing battle with Covid-19. 
His loss is felt heavily throughout the community and especially to the football players who lost not only a coach but an incredible role model. 
"Coach Wood was a wonderful person who took our team seriously and made an impact on every single player, pushing them to be great, and without him, it feels different in the football program," varsity football player Jack Smith said. 
Wood left a significant mark on football in Orange County. Having coached for three different schools over the last four decades, Wood's impact was felt far and wide. Since becoming a coach for San Clemente in 2005, Wood helped shape the team that we are so eternally proud of. He contributed to three league champions, and three consecutive years of playing in the CIF-SS finals. 
Beyond these respectable accomplishments, Coach Wood greatly impacted the football community day to day with his ongoing commitment to encouraging and supporting his players. He was known for going above and beyond in personally forming connections with each and every player on the football team, and these bonds would oftentimes last far beyond graduation. 
"Football aside, Coach Wood was an amazing man," football player Michael Alejo said. "He was such a positive person and cared for all of his players like they were his kids. He was an inspiration to all of us."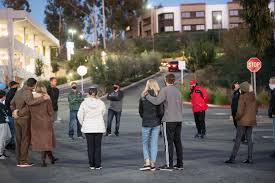 Throughout Wood's month-long stay at Mission Hospital, the community hoped and prayed for Wood's recovery. A small group of people participated in a socially-distanced vigil on the 12th, just before the horrible news hit. On Sunday, head football coach Ortiz organized a vigil open to San Clemente students to honor Coach Wood. Also, for people wishing to express their support for his family, a GoFundMe was created to assist Joe's wife, Cheryl Wood, in paying for the hospital costs. The GoFundMe has already raised over $20,000.
In these difficult times, even mourning can be made complicated by safety concerns. However, even if it is impossible for everyone affected by his loss to meet physically, the memory of Wood's bright presence and wise advice will always remain with the players—a candle that will never go out.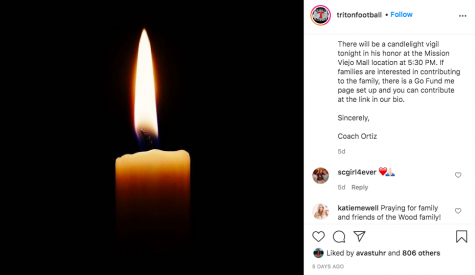 Wood's death came as a harrowing wake-up call of the severity and impartiality of the Covid pandemic. Many San Clemente students and residents are experiencing the devastation of the pandemic firsthand for the first time, and this has brought a new perspective on the disease that at times might have felt distant and inconsequential. 
"Covid seems to be a lot more severe in my eyes after this tragedy," Smith said. "It's unreal how quickly it can take the people we love."
Now more than ever is the time to be taking safety seriously. With the vaccine already beginning to reach the at-risk population across the nation, it is crucial to stay safe in this last brief stretch to prevent more tragedies like this one. 
"Covid does not care who you are, or how amazing of a person you are. Covid can take anyone away. We need to take this pandemic seriously and take care of ourselves," Alejo said.