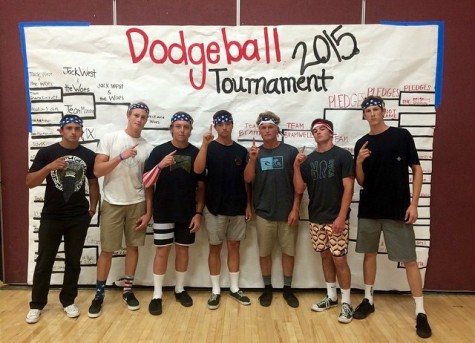 By Brooke Herbes | Writer   &   Jenna Nevarez | Writer
April 23, 2015
It came down to the last shot, 2 vs 1, sophomores Ryan Russell and Nathan Benge against senior Chase Hamming. As Russell went to throw the last shot, everyone was sitting on the edge of their seat, stomachs in their throats…the gym goes silent as he throws the ball through the air.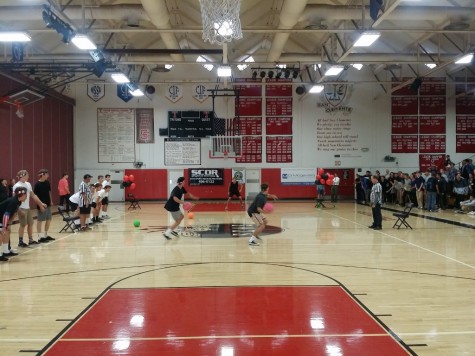 It feels as if time slows down…could this actually happen? Could the sophomores beat the seniors? And just like that, they did. The ball bounces off of Chase Hamming, the crowd erupts, sophomores storm the court, and a new winner of the 2015 Dodgeball Tournament is crowned.
The San Clemente High School Dodgeball Tournament: many teams, many weeks of dedication, and in the end, only one team victorious. Seven boys outfitted the squad – six sophomores and one freshman – named Team Bramwell.
Why the name "Team Bramwell"? Evan Banks, he told us, "We were originally called the 'Rubber Chuckers' but administration changed it to 'Team Bramwell'…not our choice." The team respected the administration's decision and embraced the new name, as evidenced by the success.
The Team was started by the captain, Spencer Bramwell. He led Evan Banks (10), Jack Sears (10), Cade Conrad (10), Ryan Russell (10), Nathan Benge (10), and Austin Whitsett (9) to the historic victory. It is essential to have great hand-eye coordination in dodgeball, and training before games is highly recommended.
"We didn't need to train because we were confident in our abilities," Banks said. "It was only a matter of time before we home the championship."
Their team is full of exceptional athletes as they all play either baseball or football for San Clemente high school.
After dedicating most of their lunch time for the past few weeks, their hard work paid off. Playing teams of different grade levels, each game got more difficult as the competition increased. The team that worked together in unison to make their way to the top: Team Bramwell. Congrats 2015 Dodgeball Champions!