Nathan Melcher  | Computer Design Editor
February 26, 2021
Any dates in the article are subject to change based on a number of factors, these are based on current local and state guidelines.
Homecoming is a vital part of the school and the town. And this year, its going to look a little different.
Every year, the city essentially shuts down for the day and allows the school and ASB to execute a series of well-planned events, more commonly known as homecoming. This year, with modifications to stay within state and local guidelines, ASB hopes to produce as close to a normal homecoming as possible.
With the recent approval of football, ASB is moving full force to try and produce a virtual homecoming experience that will continue the traditions set forth by previous years. The current planned date is March 26 at our home game against Aliso Niguel High School.
"We would like to continue our tradition of everyone's favorite event at San Clemente High School, homecoming. It is our commitment as an ASB to bring you the highest quality of event even during these challenging times …  We hope to produce a semi-virtual halftime show featuring our class dances, and elect a homecoming court to uphold some of the traditions that come along with homecoming," ASB Activities commissioner Zane Pert said. "Unfortunately, we will be unable to incorporate the traditional parade or school dance this year … [but]  hope to bring these back next year to provide the same experience everyone knows, loves, and remembers going forward."
There will be no parade, dance, or live half time show. The parade and dance have to be cancelled due to current restrictions in place on the size of large gatherings. The half time show will be prerecorded and premiered the night of March 26 via the live streamed football game. More information on the livestream can be found here.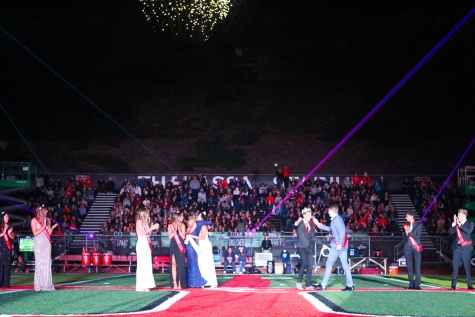 Here's the breakdown on events that will happen:
Court
A homecoming court is a tradition that dates back to when the school opened. This year, while voting and the execution may look different, we will still have a court and royalty
Top 15

Voting started on Thursday, February 25, ends March 3.

Voting is open to Seniors 

Vote via 5-star app

Winner revealed via graphic on @sanclementehigh Instagram

Top 5

Voting starts on March 4, ending on March 10

Voting is open to Juniors and Seniors

Vote via 5-star app

Winner revealed via graphic on @sanclementehigh Instagram

King & Queen

Voting begins on March 22 and ends on March 25

Voting is open to the whole student body

Vote via 5-star app

Winner revealed live on the night of March 26, via the football live stream.
Halftime Show
Rather than having students perform live during the halftime show, dances will be split up into small groups of people and filmed in the weeks leading up to the game. Each grade gets a specified amount of time to work with, and each class is responsible for choreographing and producing a dance. Students will be invited to sign up to participate in the dance, and once we have preliminary numbers, group sizes will be determined, and film dates will be set. The video will be filmed at night, in the stadium, with supporting A/V aspects to help enhance the video. The style of video will be similar to the ASB video produced earlier this year, found here. 
"While we are unable to host a normal homecoming dance and parade, ASB felt that it was incredibly important to continue the tradition in some capacity," ASB President Lily Redmond said. 
While homecoming may look different this year, the goal is to continue the traditions of the school, and to provide the best production ASB can, with the restrictions in place.