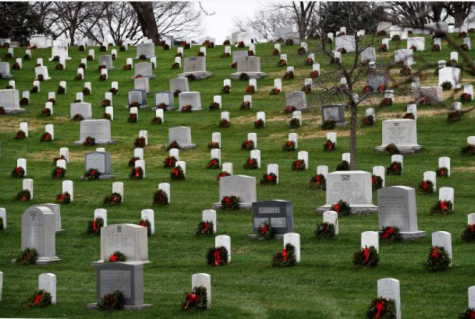 Amy Parr | Head Editor
February 26, 2021
Last Monday, February 22, 2021, marked a grave day in the history of the United States. Over 500,000 Americans lost their lives in the fight against Covid-19. To put that in context, in less than a year, more have died in our country from the pandemic than the combined American deaths of both World Wars. 
"It's hard to visualize a number that big because it's more people than we'll ever meet in our lifetime, and they're just gone," junior Evan Lipofsky said. "I can't even imagine how many other people were affected who aren't included in those 500,000." 
It's difficult to fathom the enormity of these fatalities. Processing such a large number of individuals is an arduous task, which is why people have the tendency to look at this number as one big group as opposed to 500,000 individuals whose families and friends will never be the same again. In an experimental study, psychologist Paul Slovic found that the more people that die, the less others seem to care. After a certain threshold is reached, the number becomes so foreign that death becomes detached from humanity. Even so, reaching such a grim milestone is a monumental occasion in this ongoing tragedy.
Even though the United States accounts for less than 5% of the global population, now over 500,000 American deaths constitute over 20% of global deaths from the pandemic. While this ratio is alarmingly disproportionate, things are looking up for the first time in a long time. 
President Joe Biden plans on vaccinating 100 million Americans in his first hundred days in office, and the current rate of vaccine distribution appears to support his goal. According to the Center for Disease Control and Prevention, an average of 1.45 million vaccine doses are being administered every day. Consequently, the daily average of confirmed cases has steadily declined to roughly 60,000 new cases daily, as opposed to the daily average of 200,000 new cases in early January.
Though far from ideal, these circumstances have allowed some return of normalcy. Right here in San Clemente, sports are slowly starting to lift restrictions. 
"Now that the case count is so low in Orange County, our practices can be full contact," varsity lacrosse player Teresa Yubeta said. "We can start running more drills so we can be prepared for our first game on March tenth."
This is good news for athletes, but this shift seems a bit abrupt after the passing of San Clemente High School's own Coach Joe Wood. Hopefully, it is a sign that his loss will be one of the last in our community.
"It seems surreal that we can start having sports be normal again after so long," Yubeta said. "I'm cautiously optimistic about going back and I hope that something good can come out of this loss."