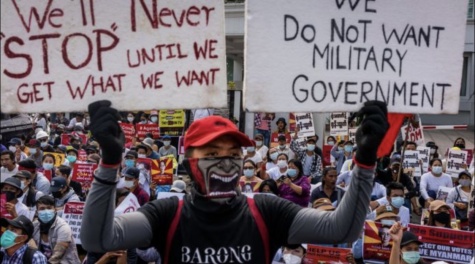 Donya Nadjie | Writer
March 22, 2021
For a month and a half, protests in Myanmar have been gaining momentum in towns and urban areas after the military held onto control of the Southeast Asian country since the coup on February 1. Security forces, composed of police and military faculty and under the order of coup pioneer General Min Aung Hlaing, have reacted to exhibitions with expanding fierceness, dispatching a precise countrywide crackdown which included shooting quiet protesters and enforced vanishings. 
138 individuals, including children, have been killed since the coup, according to the United Nations Human Rights office. More than 2,100 columnists, protesters, activists, government authorities, trade unionists, writers, understudies, and civilians have been detained, as reported by advocacy group Assistance Association for Political Prisoners (AAPP). "When I learned about the events of Myanmar, I was devastated to find out that even peaceful and nonviolent protests are being suppressed," freshman Sarah Ahmadi said.
Eleven people were killed on Monday, and 57 were killed over the course of the week, the UN said. Over 2,084 individuals remained arbitrarily detained, and at least five individuals have died in custody as of recent weeks. Two bodies have given indicated severe maltreatment with evidence that they were tortured.
"There are many more reports of further killings that we have not been able to corroborate yet," UN spokesperson Ravina Shamdasan said in a statement. "We are deeply disturbed that the crackdown continues to intensify, and we again call on the military to stop killing and detaining protestors."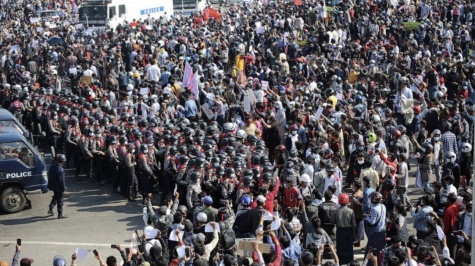 Min Aung Hlaing, the new leader of the government detained democratically elected leaders including civilian leader Aung San Suu Kyi, who expelled the ruling National League for Democracy government and set up a junta called the State Administration Council. The president proclaimed a state of emergency for one year after the establishment of the junta, in which he said a political decision would be held. 
Protesters have continued challenging the public authority takeover driven by Gen. Min Aung Hlaing's coup pioneer. Affirming data has gotten increasingly troublesome because of the martial law and neighborhoods where individuals have been executed and displaced have been cut off through state-imposed communication blackouts. The coup switched to long stretches of moderate advancement toward democracy in Myanmar. For 50 years, the nation worked under authoritarian military rule that prompted global seclusion and assents. 
On Friday, the Biden administration reported it was offering brief legitimate residency to individuals from Myanmar because of the military takeover and the destructive power against civilians. "I am happy that the US is doing something to help the civilians in Myanmar," junior Shea Blaney said.