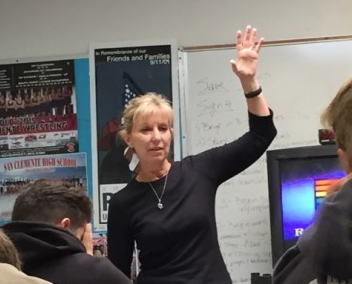 By Ethan Hughes | Writer   &   Blaze Gonzalez | Writer
May 6, 2015
Veteran teacher Mrs. Buckman has under her belt an eight year career at San Clemente High School. She had agreed to take an interview with us while answering questions with her school-renowned quick wit.
For those who don't know Mrs. Buckman, she is the sign language teacher here at SCHS for all levels.
Prior To Mrs. Buckman's teaching career, she had upheld a wide spectrum of occupations, which can be accredited for her grasp on life's concepts. Although it may be subtle to detect on the surface but before teaching Mrs. Buckman was regarded as quite a salesperson, a Sign Language interpreter, and  She even managed as well to get in the jewelry business for a time. She describes her path to teaching as a crooked road, meaning that a plethora of twists, turns, and changes have taken place in her life.
When asked about her favorite aspect about teaching she didn't hesitate to say "My kids" in reference to the students. From her student's perspective, this statement comes out as abundantly true.
Mrs. Buckman identified her ideal student as being someone who is open-minded, willing to work diligently, and also have a sense of humor because when doing Sign Language it is essential to be comprised of all of these traits to effectively learn the material.
In order to lighten the mood we posed the question to Mrs. Buckman, "If you could be any kind of animal what would it be, and why?" Her reply entailed that she would most likely associate herself with being a bird. Why she chose this? It would be a unique perspective to seek retribution was her reply that enlightened her quick wit.
Lastly, Mrs. Buckman advised to prospective students considering enrolling in Sign Language that it would be a great class that could lead to career opportunities and could be a good fall back plan.Mrs. Buckman is a hard working, dedicated teacher whom many of her students regard as their favorite teacher.