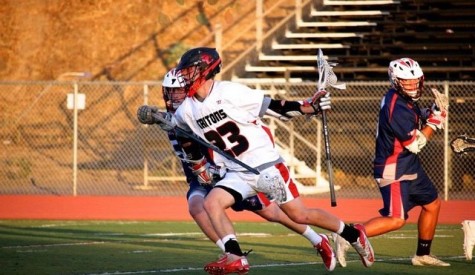 By Martina McAllister | Writer
May 7, 2015
As senior year comes to an end, and some of San Clemente High School's Tritons go off to start their lives, we are taking a look into the life of one of their many amazing athletes: star lacrosse forward Jack Renard.
What has been the best part of this season and why?
"Winning in overtime against Tesoro because it was the best team effort I feel that we have ever had, and it was definitely the best win of the season for us."
What is your best accomplishment through your years of playing lacrosse?
"My best accomplishment has probably been the many connections with not only my teammates through the years, but also my opponents. San Clemente has such a great lacrosse community, I'm so lucky."
Overall how did the Tritons do this year in league?
"This year we took either second or third in league, I'm not entirely sure."
Has there ever been a special moment that has made you look at the game of lacrosse differently?
"I would say that being coached by Glen Miles changed my perspective of the game. He has taught me that it was more than a game and that my teammates were truly my brothers. The feeling of trust and having each other's back is the foundation of working with others."
Who has influenced you most through high school and why?
"Robbie Burns has influenced me the most over the last four years. He was a 'little' big brother to me. His work ethic is something I can try to emulate, but can never equal."
What are your plans after high school?
"After high school, I plan to attend the United States Merchant Marine Academy in New York and play division 3 lacrosse there."
What has been the most memorable moment during the last four years of lacrosse?
"The most memorable moment for me was going undefeated in a tournament the day after winter formal. I still really do not know how that happened."
What will you miss the most when you graduate?
"I will miss all the team bonding the most. The team is a group of brothers on and off the field. From singing 'Hakuna Matata' on the top of our lungs with four year olds in a Disney store to giving each other ridiculous haircuts every year before season and everything else in between. I am just really going to miss my brothers."