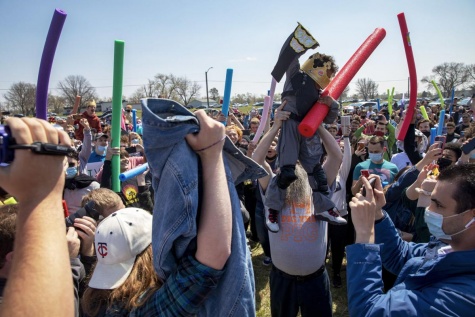 Sosie Casteel | Editor
April 30, 2021
Since April of 2020, there has been a running meme about the possibility of an "epic battle" between everyone with the name Josh. The Josh fight was set for April 24, 2021, so 5 days ago the meme resurfaced. 
The meme included a screenshot of a Facebook group message with several people named Josh Swain.
"You're probably wondering why I gathered you all here today," the first text read. One left the meeting, and in doing so missed out on an extraordinary event. The creator proposed that everyone in the group chat meet on April 24, 2021 at 12 in the afternoon at 40.8223286, -96.7982002, Lincoln, Nebraska. The winner of the fight would keep the name "Josh" while everyone else would have a name change.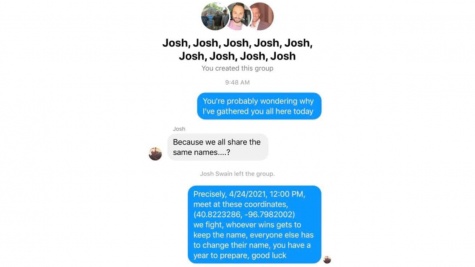 A screenshot of the group chat quickly went viral and expanded beyond Joshes with the last name Swain. A countdown clock was created, as well as plenty more group chats full of Joshes.
News stations interviewed the original Josh Swain who revealed that he never intended for the Josh fight to materialize. It was only a fun way to entertain himself during the pandemic. 
As the potential Josh fight blew up on TikTok, Swain knew he had to make sure that the fight remained a safe and light-hearted event. Although primarily, there was money raised for the legal fees for the losers who would have to change their name, that quickly turned into a fundraiser for a better cause. People donated instead to The Children's Hospital and Medical Center, and every Josh was strongly encouraged to bring food for a non-perishable food drive.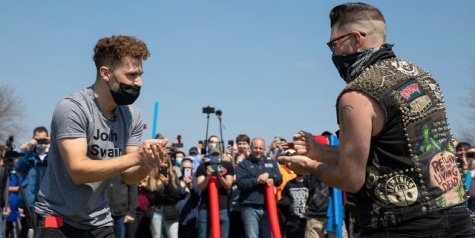 At zero hour, a multitude of people named Josh showed up at the designated field in Lincoln armed with pool noodles, crazy costumes, and pride in their name. In addition to the clashing of pool noodles, the original John Swain and a John Swain from Omaha had an epic rock, paper, scissors battle. People showed up with signs and t-shirts supporting their favorite Josh, which proved to be extremely confusing. "I thought it was about time. I personally know three Joshes and I'm just so tired of having to remember which one is which," senior Dustin Dickson said. 
The battle was based on an honor system: if you got hit by a noodle, you were out. In the end, the last Josh standing was Josh Vinson Jr. This brave four-year-old won the Josh trophy and even delivered an inspirational victory speech: "I always fight everyone."
Not only was the fight a wholesome event that raised our country's spirits, but it also provided immediate help to a lot of people in need. The fight was captured from all angles across social media. "It was really interesting and that more of them should happen with different names," junior Logan Middleton said. 
The event also symbolized the possibility of things beginning to open up. Although it may have been much too soon for a gathering of hoards of people, the battle could be a positive sign that our lives are returning to normal. 
"I remember seeing that meme a year ago, and I just didn't expect it to follow through," junior Nicole de Santos said. "In a time such as the pandemic, it may not have been safe, but it definitely brought smiles to the participants and the viewers." 
Maybe a battle of the Joshes was just what we needed.