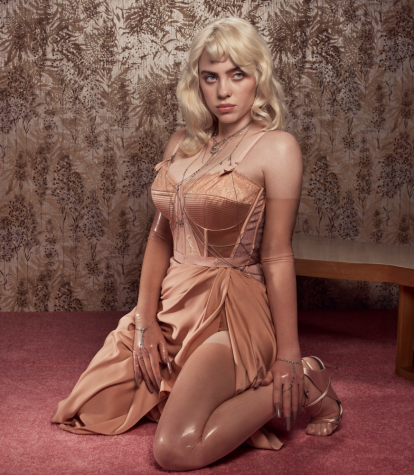 Amy Parr | Head Editor
May 7, 2021
Billie Eilish rose to stardom at an extremely young age. She was the youngest ever recipient of the coveted Album of the Year award at the 2020 Grammys, but she became a celebrity long before that. The song that propelled her into the public eye, "ocean eyes," was released on SoundCloud way back in 2015, and since then it has been streamed over 700 million times on Spotify alone. Some of her other extremely successful songs include "bad guy," "when the party's over," and "lovely" (ft. Khalid), to name a few. Her unique sound combined with her unconventional style have given people plenty to talk about over the years. 
"I really enjoy her music style and appreciate how she produces music according to her own standards and not just to attract validation from listeners," junior Sarah Jaafar said. Despite her songs focusing on heavy topics like depression and climate change, Eilish found her perfect audience in Gen-Z listeners who view her music as a breath of fresh air. 
Ever since Eilish rose to the top of the music world, her signature look has been characterized by baggy clothing and green and black hair. Many applauded her for defying traditional pop star expectations and rejecting tight clothing for something more modest—a view that was problematic to begin with.
"The idea that modesty is the best has been embedded in societal expectations for so long that when women don't conform to this standard, everyone freaks out," junior Madeline McDonald said. "It's ridiculous that women need to dress a certain way to be respected, but celebrities like Billie are showing younger generations that clothing is all about feeling empowered, regardless of how other people feel."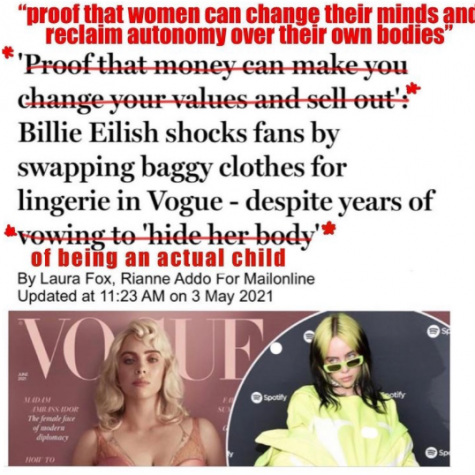 On Sunday, May 2, Eilish turned heads when she posted photos on her Instagram from her photoshoot with British Vogue. Ditching the neon tracksuits for a pink Gucci corset, Eilish embraced her feminine side, which paired beautifully with her newly acquired blonde locks. Unfortunately, this change was not universally welcomed, with open arms by several Twitter users who felt the need to belittle Eilish for her personal choices. 
"Before: unique, different, a class of her own," Twitter-user @jetztisssraus tweeted. "After: mainstream, exchangeable, slick, and polished. Why?" 
Not only are comments like this completely uncalled for and rude, but they also point to a greater issue; girls are critiqued for indulging their feminine side because anything that is traditionally girly is deemed as inherently bad or basic. This unspoken pressure to be "not like other girls" creates an unhealthy attitude towards femininity, encouraging girls to suppress their interests if they could be perceived as "basic," whatever that means. In the case of Billie Eilish, her previous style, void of all things pink and floral, was due to her desire not to be sexualized by the media given her young age. But she's decided to change things up, regardless of what the bullies say.
"Suddenly you're a hypocrite if you want to show your skin, and you're easy and you're a slut," Eilish said in the Vogue interiew. "Let's turn it around and be empowered in that. Showing your body and showing your skin—or not—should not take any respect away from you."
Eilish correctly addresses the nuances of how female empowerment is perceived by the media. For some women, showing skin is the best way to feel confident, while others feel more empowered dressing modestly. 
"It's really no one's businesses how women, or anyone for that matter, dresses," McDonald said. "I think that Billie looked amazing before and she looks amazing now, and she's a great role model both ways."