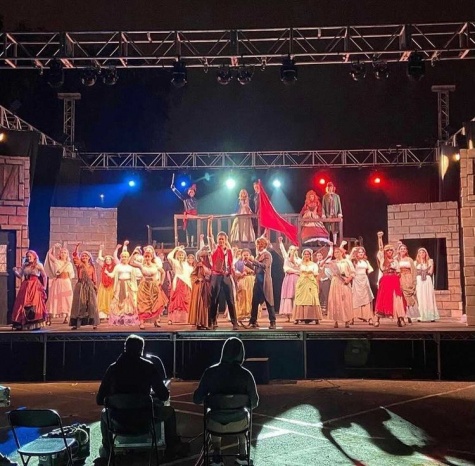 Jill Greene | Head Editor
May 14, 2021
After a year of no song and dance, the San Clemente High School Drama Department is finally ready to put on another show. While trickily abiding by CDC guidelines, Drama is back with their rendition of the widely celebrated classic Les Miserables. 
The musical, based off Victor Hugo's 1862 novel of the same name, follows the life of Jean Valjean, played by Mitch Bell, as he turns from crime to redemption. As he raises an orphaned girl, Cosette, played by Daisy Kopenhefer, Valjean runs from the shadows of his past while trying to navigate the tumultuous politics of post-revolutionary France. "I'm very excited to be performing Les Mis," sophomore Griffin Croft said. "I'll be playing Inspector Javert, so I'm very honored to portray such a complex character, especially as an underclassman."
Last March, the department was wrapping up their rehearsals for The Music Man. With almost everything ready and prepared for a live audience, the school was suddenly forced to shut down. With no one in school, that meant no audience, either, so the department was forced to shelve the production indefinitely." I was devastated to hear that we'd be putting Music Man on hold," senior Zack Mallgrave said. "But I absolutely love the music in [Les Miserables]. Each melody is a fleshed out theme, representing different characters and how they fit into the larger ideas of the story."
When school was finally reopened, the program decided to move on to Les Miserables. Excited to start a new production, Drama got started right away, but this wasn't without its challenges. For starters, they had to abide by CDC guidelines. The actors weren't allowed to sing indoors, even with masks, so rehearsals were held outside the Little Theater—persevering through rain, wind, and chilly temperatures. In order to block their acting on stage, actors lip-synced to track recordings. Additionally, props, set pieces, and other high-contact surfaces were wiped down daily.
As for the actual show, all performances will be held outside. "We are doing our show—festival style!" director Kirsti McCleary said. In order to comply with safety guidelines, the production was planned as an outdoors event. A concert-like stage has been set up on upper campus. "Our seating is in socially-distanced pods and spaces reserved for each family that comes…Dress warm—it will be a little chilly!" Audience members are recommended to bring their own chairs and blankets.
What would have been a limited release, the drama program got the green light to open up for general admission. With the show opening Wednesday,  May 19th, and running until Saturday, May 22nd, tickets are available online at schsdrama.com.