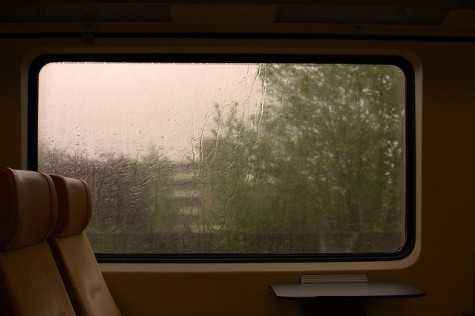 By Stephanie Alpizar | Writer
May 8, 2015
She was fixated on the rolling hills and mountainside outside the window. Lush trees covered the landscape with a flourish of warm colors. Daisy yellow, sunset orange, and apple red swirled together as the wind ruffled the leaves. She could barely hear the soft squeal of the machinery propelling her across the Earth. She sighed with content at the sun's placement, it was perfect lighting to continue reading. Her trousers caught her eye as she spotted a piece of lint on her mid-thigh. With a swift flick of her hand she did away with it. The girl found it as good a time as any to take into account the rest of her ensemble. Her shoes were clean and shining, her hands and fingernails clean and steady, her pants ironed to perfection. As she started to open her book with satisfaction, she noticed a stain on her white blouse. She let out a displeased "humph" as she pulled on it to examine it better. It appeared to have been from the tomato basil soup she'd eaten earlier that day for lunch.
As she was contemplating solutions for her problem a quick flash of the door stole her attention away. A small and thin figure had slipped in and was now sitting across from her. The girl could only be described as grimy. Her hair was half up, showing blonde highlights that contrasted the rest of her honey brown hair, making her emerald eyes pop with a vibrancy closely related to spring grass after a long winter. There was a goofy grin plastered across her face. Her clothes were simple, efficient, and seemed durable. However, the knees were worn and dirt powdered her whole body. Jane noticed that the strange girl's breathing was ragged and quick. She wiped her nose swiftly, out of habit. This action gave Jane the opportunity to see the girl's hands were rough with calluses and overwhelmed by dirt. She was so entranced by the appearance of this creature that when she spoke, Jane could hardly comprehend her.
"Hi 'ya!" the ruffian-looking girl said confidently. When Jane gave no response, the girl cocked her head to the right, squinted her eyes, and scrunched up her mouth as if investigating Jane. "You a mute or something?" the girl questioned.
Jane flushed with embarrassment as well as contempt, she was almost never at a loss for words and didn't take kindly to others implying that they thought her unintelligent. "I certainly am not." Jane's words were sharp and quick.
"Thought not." The girl said with a shrug. Jane let out an exasperated sigh; she anticipated a larger response from the girl. While Jane contemplated how she might be able to demonstrate her intellectual prowess, the girl was abruptly getting up, and heading towards the door.
Surprised to see her leaving so soon Jane lost control of her emotions and practically yelled at the girl, "Where do you think you're going?" The girl had one hand on the doorknob, her body tense. When she looked back at Jane she had a scowl on her face.
"I'd appreciate it if you didn't yell like that. I simply needed this room briefly to avoid some other passengers, but I believe that I am no longer in danger. Therefore I will be taking my leave now, and I don't need you to help them find me. So go back to your book and stay quiet." Her last words were said with a finality that suggested that any sort of reply from Jane would be unwelcome.
Jane felt herself pouting, but caught herself. What was it about this girl that made her want to prove herself? She was obviously not of high stature, not well educated, or well mannered. She had no regard for her appearance and emitted a flippant teenager. So why did she want the girl to stay? Why did she want to know everything about her when she was so obviously a polar opposite to herself? Despite these thoughts, she asked the girl, "Why are you avoiding others?"
"What makes you think that's you're business?" Jane was taken aback by this remark. It wasn't that it was said rudely, but it held a truth that Jane had never thought of before. What made her think that she could demand information from someone? Just because she had money, nice clothing, and a high societal placement didn't mean that she had any authority over others.
Jane, feeling defeated sat back in her seat with a resounding "plop," her eyes down and hooded by her eyelashes. She heard the young girl sigh and walk back to the seat opposite of Jane. "Look, I'm not someone you want to associate with. I don't want to pull you into this, so just stay put and if you know what's good for you you'll tell anyone who asks that you've never seen me."
Jane's next words spilled out of her before she could stop them. "What if I don't want to be safe? What if I want to live?"
The girl's eyes narrowed, and she bit her lip. She looked out the window with a pensive countenance. This gave Jane a moment to think about what shed said. What made her think that she wasn't already living? She had a nice home and wealthy parents, an older brother who was doing well in life and a younger sister who doted on her at every moment. She was always invited to proper functions and spent her time learning music and sewing and reading books. She looked down at the leather-bound novel in her lap. She hadn't noticed until now that she was clutching it with strength she didn't know she had. Her knuckles were white and started to ache. The gold ink of the title glared at her with a mysterious glint. It read, Twenty Thousand Leagues Under the Sea. Like many of the other books she read, it was filled with adventure and danger at every turn. But above all it made her realize that she was trying to live a different life. She didn't know who she was in the confines of her nineteenth century society. She tried so hard to be the person that was demanded of her, but the appearance of the wild girl allowed her think that there was another option.
Before the girl could say anything Jane spoke with a determination and authority that she had never used before. "I'm coming with you." The girl turned to her tersely with her emerald eyes wide, mouth slightly agape. But slowly the girl's face changed to resemble Jane's, and soon they were both smiling with bright eyes and wonder at the countless possibilities of the events to come.