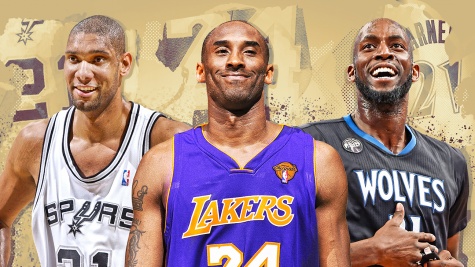 Owen Simler | Writer
March 21, 2021
Every year, the National Basketball Association inducts the top NBA and WNBA players and coaches into the NBA Hall of Fame. On May 15, there were a total of eight new players and coaches inducted into the Hall of Fame. Due to the ongoing pandemic, these Hall of Fame inductions were supposed to be held in 2020 but were postponed until now. 
The three most prominent inductions this year included Kobe Bryant, Tim Duncan, and Kevin Garnett. In the NBA, Kobe played for 20 years, Duncan played for 19, and Garnett played for a total of 21. 
Kobe had a prolific career throughout the twenty years that he played in the NBA. Kobe was an 18-time NBA All Star and he was an 11-time All-NBA First Team Selection. With the Lakers, Kobe dominated the league winning the NBA championship five different times in 2000, 2001, 2002, 2009, and 2010. Other awards Kobe has accumulated throughout his seasons in the NBA include scoring the second most points in a game with 81 points, and Bryant also won gold medals in the Olympics in 2008 and 2012. 
This award was given posthumously because of Kobe's untimely death on January 26, 2020 due to the famous helicopter crash. In a moving speech, Vanessa Bryant, Kobe's widow, delivered a heartfelt acceptance speech in honor of Kobe at the awards. She expressed how much she knew this award actually meant to Kobe and the long lasting legacy that Kobe left on their family and the basketball community.
"One word I would use to describe Kobe's career is greatness. He was great in all aspects of life and basketball," senior Arya Nemati said.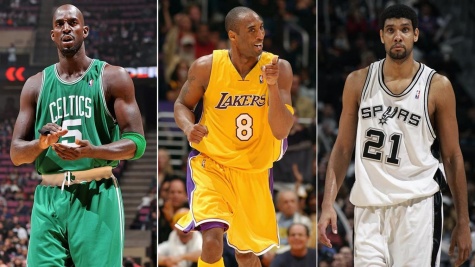 Duncan spent his entire NBA career with the San Antonio Spurs from the years of 1996-2015. He then went on to become the San Antonio Spurs assistant coach from 2016-2019. In his NBA career, Duncan became a 15-time NBA All Star and an eight-time member of the NBA All-Defensive First Team. On top of these awards, Tim earned Finals MVP three times and won the NBA MVP in 2002 and 2003. Duncan is the only player to have played in the NBA with more than 1,000 wins with one single team. 
"Tim Duncan was the most underrated power forward of all time," senior Garret Carter said. "He was the Ultimate team player that won championships and MVPs while staying humble and being a good guy. Tim Duncan was known as one of the most selfless NBA players as he was always playing for the benefit of his team."
Throughout Garnett's career, he accumulated 15 NBA All-Star and a 2008 championship with the Boston Celtics. Garnett also played with the Minnesota Timberwolves and Brooklyn Nets. Garnett was the NBA All- Defensive First Team nine different times and in 2004 with the Minnesota Timberwolves, With 21 seasons played, Garnett is fourth overall for all time minutes played with a total of 50,418 minutes played. 
Among these three inductions to the Hall of Fame, Eddie Sutton, Rudy Tomjanovich, Tamika Catchings, Kim Mulkey, and Barbara Stevens were also inducted into the Hall of Fame.