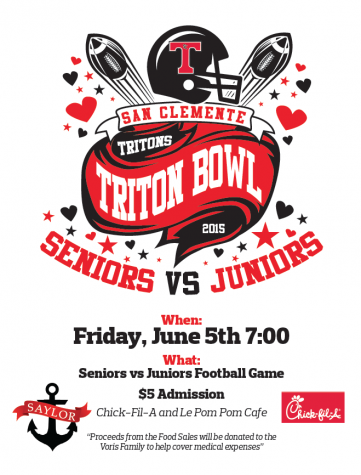 By Bailey Peterson | Editor in Chief   &   Sara Hartnov | Writer
June 3, 2015
Over 100 lady Tritons are scrambling into Thalasa Stadium, Beyonce is blasting on the speakers, and head senior coach Jake Russell is attempting to lead warm-ups. It's a new kind of  Monday Night Football at San Clemente High School and the feeling is right with the girls taking over the football field.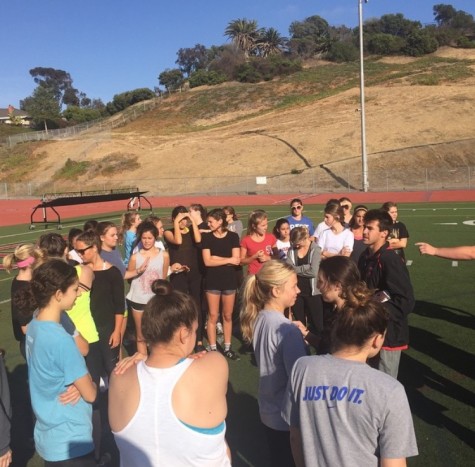 From lacrosse stars to dance team twirlers, hundreds of junior and senior girls are participating at the first annual Triton Bowl on Friday June 5th at 7 p.m. The event squares off the upperclassmen in an effort to support one of San Clemente High School's own, Saylor Voris, who past away earlier this year after her bout with cancer.
"I know Saylor would appreciate the community coming out and supporting her," Russell said. "I know she would want to participate too because it's fun"
Co-head senior coach Liam Mills added, "We're raising a lot of money for her charity and it's a great way to bring the community together in a fun way."
Chick-fil-A and the Triton Cheer sponsored Le Pom Pom Cafe will be selling food and beverages that will be donated to help the Voris family pay off accumulated medical expenses.
Both the players and coaches have worked hard to make this event happen. Head football coach Jaime Ortiz has especially worked hard to make the game fun and organized for everyone. His goal is to show the Voris family "the same support the football program was able to show our late Triton Nick Pasquale."
The responsibility of senior head coach is a great undertaking but Russell claims it is worth it "it's rewarding to know all of this is for such a great cause and it has been really fun to see all the girls having a good time and trying to really understand and learn the game of football."
Senior Summer Thompson has been focusing on her snapping skills at the last two practices stating "I am a born snapper and it makes sense I'm first string!"
The junior team is led by junior head coach Donte Harrington and co-head coach Cole Fotheringham, and they are "pumped…and ready for the game."
"This game is in the bag," boasted Fotheringham. "A guaranteed 'W'."
"I'm looking forward to the game…I think we have a great shot at the win because our players have better coaches, higher level of talent, speed, athleticism," Russell said. "Plus, there's Chik-fil-A afterwards."
This Friday night at 7 p.m. be sure to come support the San Clemente Football program to honor our fallen Triton student Saylor Voris and fundraise for the family. Admission will be five dollars.