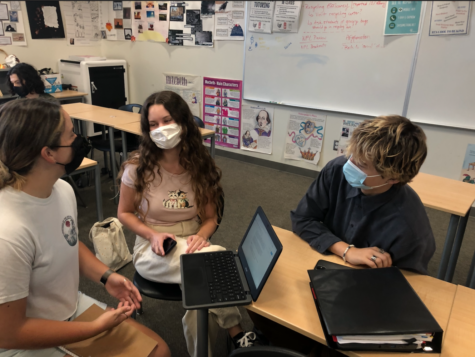 Reaghan Mulligan | Newsroom Manager & Brooklyn Staab | Opinion Editor
School's back in session! The long awaited return of school came back in full throttle on August 17th for Tritons at San Clemente High School. All across the nation, students packed their bags—with several masks handy—and prepared themselves for daily in-person learning, a structure surprisingly missed by most scholars. While the initial shut down back in March 2020 brought a roar of confusion and complaints from parents and students alike, the start of a new school year carries its own difficulties.
On August 11, 2021, California's Governor Gavin Newsom implemented the nation's first plan to encourage Education staff and students to get vaccinated if possible. Newsom also published a state-wide mask recommendation that included a requirement for K-12 students and staff to wear masks while inside an enclosed space at school. 
The California Public Health Organization simultaneously released further plans for a state-wide vaccination proposal and ultimately required all education staff across California to elect to be fully vaccinated or submit weekly negative reports of COVID-19.
According to the CDC's Guidance for COVID-19 Prevention in K-12 Schools, the safe return of in-person school has been top priority over the past few months, and the schools across Capistrano Unified School District adamantly follow the regulations posted in their announcement. 
At SCHS, students and staff are required to wear masks while inside classrooms and other enclosed spaces, however most students enjoy the mask-free environment outdoors, in areas such as the P-Quad.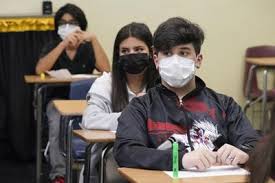 "I haven't seen anyone refuse to wear a mask directly to a teacher, however I've noticed a lot of kids try to sneak their masks off during class," senior Donya Nadjie said. "Overall, I feel like most people wear their masks inside, but the majority definitely don't wear masks outside."
While the request to wear masks from the school district remains a point of controversy, the majority of students respect the in-school mandate and can be seen wearing their mask inside throughout the duration of the school day. Of course, critiques of the face covering policies can still be heard loud and clear from frustrated parents and students both at San Clemente High School and across the nation. 
Despite the stagnant policy across the Capistrano Unified School District, schools across the nation have vastly different procedures regarding COVID-19 precautions. While some schools faced little to no negative feedback from their community after releasing in-school mask mandates, others dealt with disdain from their government officials for implementing mask enforcement. Counties in Florida face controversy and concern after Florida State Governor Ron DeSantis created an appeal to ban mask mandates across the state.
Although students and staff alike may report the culminating exhaustion caused by wearing masks consistently throughout the duration of a long school day, measures must be taken to ensure that students are not once again confined to their rooms, with only their faces displayed in an inch-by-inch pixel screen. Discomfort and mask fatigue are inevitable in many cases, but many students agree that wearing masks inside classrooms is only a small price to pay in order to return to a semi-regular school year.
"We, as a society, need to understand and be conscious of the actions we take," senior Psi Padhya said. "Many students have medical conditions, and some live with older people as well. It's not right to put those in danger because one does not want to take a simple precaution." 
Procedures undoubtedly continue to change, but students should be prepared to roll with the punches, as the country has had to constantly adjust for almost two years now. As the vaccination levels continue to rise, and as long as health precautions are stuck to more diligently than before, we may begin to see the disintegration of the virus. However, while COVID-19's pervasive grasp still holds on to the nation, every individual must continue to adapt and overcome the inherent challenges in order to emerge from the virus unscathed.