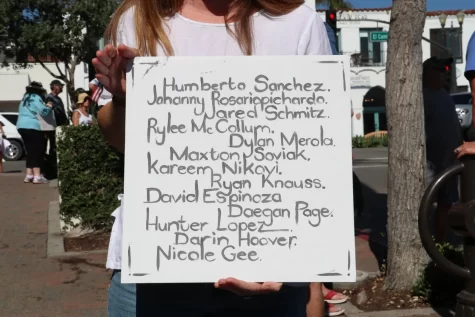 Danielle Generaux | Student Life Editor & Nicolle Generaux | A&E Editor
September 12, 2021
During the U.S. withdrawal from Afghanistan, a suicide bombing killed 13 young American service members. Ten were Marines from the Camp Pendleton Base in North San Diego County and many of the troops' families live near the base.
Americans across the country have gathered together to honor the bravery and sacrifice of these soldiers, as well as comfort the families that are grieving their sudden loss.
San Clemente and San Diego have been close-knit Marine communities since Camp Pendleton was built in 1940s. From then on, the area has witnessed Marines come and go from the base into World War II, the Korean War, the Vietnam War, the Gulf War, and Afghanistan. It was no surprise that these patriotic populations were eager to honor the Marines from Camp Pendleton as well as the courageous men from all over the nation who tragically died that day.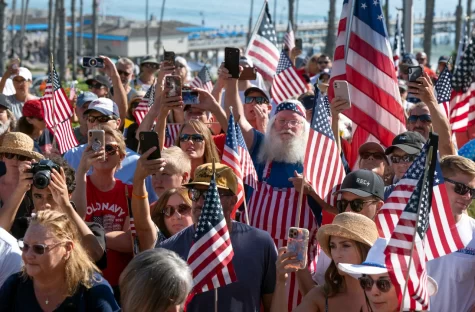 Hundreds of locals marched to honor the soldiers through the busy Avenida Del Mar in downtown San Clemente towards Park Semper Fi, where the city's Marine Monument is located. The patriotic group shouted "USA!" over and over and waved American and Marine Corps flags to commemorate the lost Marines, celebrating them as heroes. Cars and people dining at restaurants along the lively avenue honked and cheered when the crowd passed by, giving their appreciation for the fallen troops as well.
"It made me feel inspired and hopeful," sophomore Sophie Rapeepat said. "It was touching to see the support from our community and how people united together to honor our military."
The group continued to march, cheering their way to the pier. There, a retired Marine who had served in the 1970's, spoke about the fallen troops. He acknowledged each one of them by name, which was followed by a moment of silence.
"It's really sad that many Marines lost their lives, but I'm glad their lives are being honored by other fellow Marines," senior Bianca Bird said. "In Camp Pendleton, they held a vigil and stayed silent in their honor."
Local resident Jay Bellamy, a sand sculptor, built emblems of the Army, Navy, and the Marine Corps in the sand near the pier to display his appreciation of the lost Marines.
On behalf of the San Clemente High School community, thank you to all of the active troops and veterans for your service!