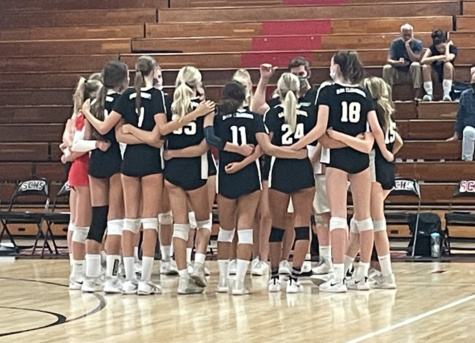 Amy Parr | Head Editor & Talie Folsom | A&E Editor
September 9, 2021
After an abbreviated season last year, San Clemente High School's varsity girls volleyball team was more than ready to come back for their first full season since 2019. After such a long break from their usual routine, the team was extremely excited to start off their season back in August. So far, their passion for their sport has translated into high level performance, with a 7-1 record halfway into the season. 
"Last year's short season made me appreciate this one so much more because I didn't know if I would have a senior season," senior Ava Schmitt said. "If you would have asked me a year ago, I wouldn't have thought that I would get to have a senior season. It also made me appreciate my first two seasons more and look forward to the last one even more." 
Even though girls volleyball is a fall sport, last year's season was delayed until March, and went by in the blink of an eye. This was true for all sports, packing three seasons of sports into one. In spite of this chaotic environment, several girls from the team have committed to play volleyball at the collegiate level.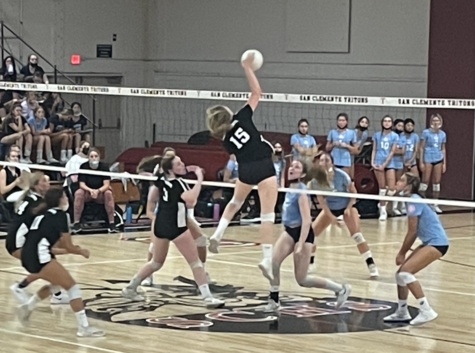 "I think that playing here has helped prepare me for playing in college," junior Lily Dwinell said. "Everyone on this team has helped me prepare and even though I'm excited to play at [University of Colorado Boulder], I'll be sad to leave this team behind." Alongside Dwinell at the D1 level is senior Audrey Della Vedova, who committed to play volleyball at Boston College. 
"Even though our team is super competitive, we're all great friends and always have a good time," Schmitt said. "I think volleyball is unique because we play on a smaller court, so since the team is way closer together we have an easy going camaraderie, and it's nice having the crowd so close to cheer us on." 
With a sport like volleyball, the players feed off of the energy of the crowd. As things start to progress towards normalcy, more and more people are feeling comfortable filling the stands to cheer the girls on. This energy is more important than ever as the team strives to maintain their nearly perfect record. For everyone interested in supporting our team through the rest of their season, be sure to attend the next home game against Trabuco Hills on September 14 at 6:15!