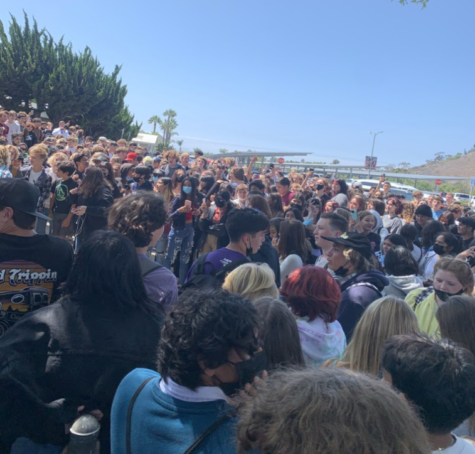 Aaron Velez | News Editor & Coco Meyerhofer | Writer
September 10, 2021
Last week, students organized a protest against rape culture following a social media outbreak of allegations of sexual misconduct between two SCHS students. Details about the off-campus incident were shared across platforms like Instagram and Snapchat, gaining attention almost immediately. 
Students were also frustrated by alleged inaction taken by school administration, prompting students to organize a protest in front of the attendance building during lunch on September 2, 2021, advertising the event across social media. 
Hundreds of students showed up, but the protest ultimately lasted for only part of the lunch period, as tensions quickly escalated and police had to break up the crowds. Around 20 minutes into the demonstration, the Orange County Sheriff's department decided that the protest was no longer peaceful; they immediately dispersed the gathered students, using pepper spray when some students resisted. Ultimately, this interaction led to multiple students being served suspensions.
Several students questioned the sincerity of the protestors. "The demonstration reminded me more of a school dance than an organized protest," junior Tiffany Swart said. "I wish people would have been more serious about it." 
However, others felt as though the rally was genuine, but believed that a few errant attendees ruined it. "It was a good idea, and it was peaceful, but of a group of people starting moshing," sophomore Nicole Rod said. "[They] took away meaning from the peaceful protest. It could've been handled better."