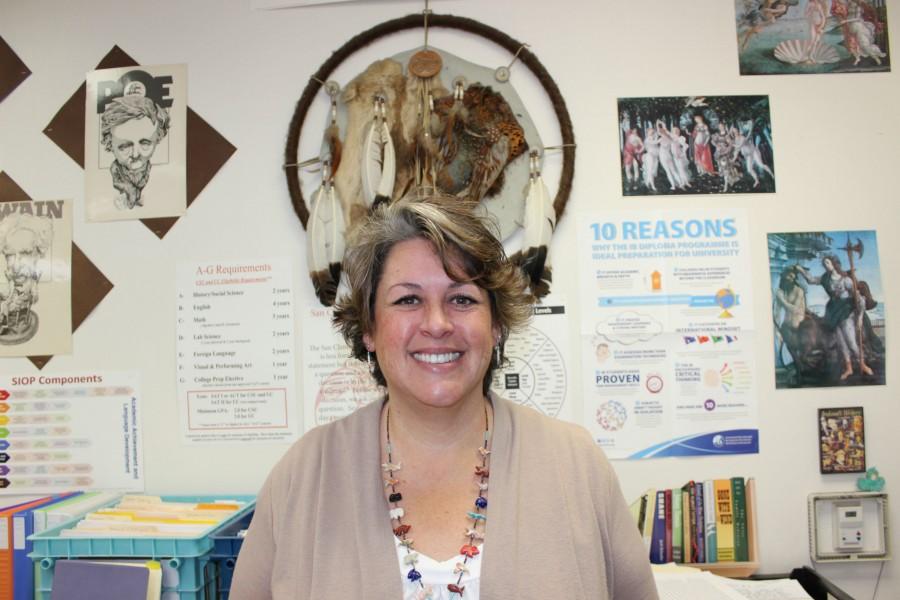 By Claudia Pacheco | News Editor   &   Elke Kelly | Photographer
May 26, 2015
Ms. Washington pointedly declared, on the topic of teaching and counseling here at San Clemente High School, "I feel like what I do matters…teaching makes a difference."
As a full-time English teacher, English Department Head, and IB coordinator, Ms. Washington definitely fills a vital role here at SCHS. Currently teaching both AP/IB Language and Composition and Theory of Knowledge, Ms. Washington is also face to face with some of the hardest working and most focused students on campus. She spends much of her 8-10 hour work days leading the classroom and meeting one-on-one with students and accelerated freshman to guide them in their pursuit of the IB diploma.
Last March, Capistrano Unified School District superintendents and former principal Mr. Halt caught Ms. Washington and her second period class by surprise to announce her achievement as not just the SCHS Teacher of the Year, but the CUSD Teacher of the Year. After carefully reviewing teachers from the district's six high schools, CUSD chose Ms. Washington for her endless devotion to students and to the educational foundation as a whole.
To gain more insight into her motivation for teaching, I sat down with Ms. Washington to ask her a few questions about her life, both inside and outside the classroom:
Besides being a dedicated teacher, what do you enjoy doing outside of school?
"I love singing. I sing with my church choir and sometimes I do solos. I also really like to go to the theater. I like movies. I'm really interested in the arts. I like to travel. My husband and I went to Costa Rica for our 20th anniversary, and we just booked tickets to Curacao in the Caribbean Islands. We'll be going with the whole family in December, so I sort of feel like we have a little travel bug."
Where and what did you study in college?
"At UCSB, I was a music major, and then I transferred to Cal State North Ridge as a theater major. I got my degree from North Ridge in theater and then I got a second Bachelor's in English and my teaching credential there. Then I got my Master's in English at UCI."
What types of activities or qualities do you think make your classroom unique?
"I don't know if this is unique to my class, but rather to the IB/AP Language class in general, is the interactive nature of the course. Especially this year, sitting in communities – I completely love that. I really like the exchange of ideas, because I learn so much about youth culture from my students. I respect their point of view, and I think that environment of mutual respect is important. I always have something to learn. Last year, we were encouraged to visit other teachers' classrooms, so I had gone to Mrs. Dutton's room, and she has her students in groups. One of the things about being an IB learner is being a risk-taker, so I told Mrs. Sigafoos, 'We should just try it and see what it's like.' It's our first year using communities, and we both love how it facilitates discussion."
What do you think set you apart from other teachers in the district in the selection of Teacher of the Year?
"I think there's an element of chance every year. You're being measured up against other teachers, so you don't know what exactly the competition is each year. But I really love my job. It consumes me during the school year, sometimes to the detriment of my family commitments, because I am here for a long time every day. I really care about what I do. Mrs. Sigafoos and I do presentation through the foundation about selective colleges. I think also being Department Chair is a big responsibility in addition to teaching and IB counseling, especially through this time of transition with SBAC. That is a great opportunity, but it's also a big responsibility."
Would you recommend teaching as a profession to any students?
"I think it's an amazing profession. I feel like what I do matters – makes a difference. It's energizing working with people and dealing with different personalities. Our photography teacher many years ago, Dan Macintyre, said that teaching can be the easiest job in the world or the most difficult job in the world, because if you really care then it is an opportunity to make a difference. I had some teachers make a really big difference in my life, an elementary school teacher and a couple of high school teachers. I think that prompted me as well to get into education. Teaching is a noble profession where you can be touched like no other. You can really make a difference. I think a university professor has more prestige, but there's something about working with students in these formative years that is really interesting and energizing."
Do you have any advice to new teachers?
"You really need to be prepared and know your subject well. I always have more planned for each class than I can ever teach. If you just make sure that you're really confident and you've done your lesson planning then that helps you deal with the unexpected things that arise. Especially with really bright kids, at the beginning, you cannot make mistakes. Once the students have confidence in me, then if I misspell something, it doesn't erode my credibility. But if I start that way then it's hard, especially with accelerated and AP classes, to gain their respect. It's fortunate for me that I've been here for 27 years so my reputation kind of precedes me. When you've been at a school and you have a reputation as a teacher, it can go either way. The kids have a preset idea when they come into your class. When I had kids, I was out of the classroom for three years, and just after that short time, I had to establish my credibility all over again. It was a very humbling experience. Because once I go, someone else will come in and be able to do the same thing. So that's a very humbling experience."
Did you have any particularly influential teachers in high school?
"I had an English teacher, Mrs. Meadows, for two years, and we still exchange Christmas cards. She sent me a 'Congratulations' card when I got district 'Teacher of the Year.' She made a huge impact on my life. I once spent a Christmas with her, because my family was in another state. I could tell her things that I couldn't even tell my own mom, so I had a really special relationship with her. And my drama and music teacher also was really instrumental in helping to further my passion for the arts. I performed a lot of musicals and plays and was in madrigals in high school, so that was a really great experience for me."
Considering her never-ending passion for the arts, for her family, and for education, it's rare to catch Ms. Washington without a full schedule. Even during the short period of "tutorial" on block days, students push past each other to scribble down their names on the board and reserve their spot to talk to her about assignments and plans for the future.
We cannot thank Ms. Washington enough for her 27 years spent impacting the lives of thousands of students at SCHS!