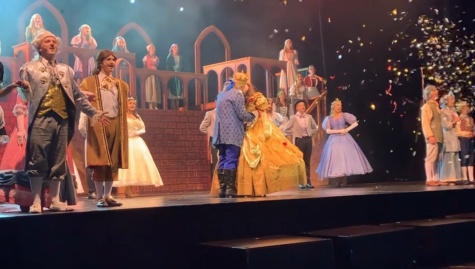 Brookelynn Hodgin | Writer
November 5, 2021
A wonderfully put-together production, Drama's Beauty and the Beast is a must-see—dare I say… more fun to watch than the football games?
San Clemente High School's Drama department premiered their fall/winter musical Beauty and the Beast last week. So far, the show has garnered large audiences, especially on opening night. "I absolutely loved the play," junior Tiffany Swart said. "It was so fun to watch my friends in drama perform, and I thought everyone did a fantastic job." 
A timeless fairy-tale based on one of the numerous Brother Grimm short stories, Beauty and the Beast contains memorable characters, a lively score, and the heartwarming happily ever after everyone knows and loves. The Broadway adaptation of the Disney classic consists of fun dance numbers that will have you wishing you were up on stage dancing alongside the characters.
The play leads are Christian McCleary as The Beast/Prince Adam and Daisy Kopenhefer as Belle. Then our support roles, Griffin Croft as Gaston, William Redmond as Cogsworth, Liv Hottinger as Madame de la Grande Bouche, Dax Hill as Maurice, Brielle Jenkins as Babette, Hayden Pothier as Chip, Tanner Lloyd as Mrs. Potts, Tre Kuhn as LeFou, and last but definitely not least, Liam Hallinan as Lumiere.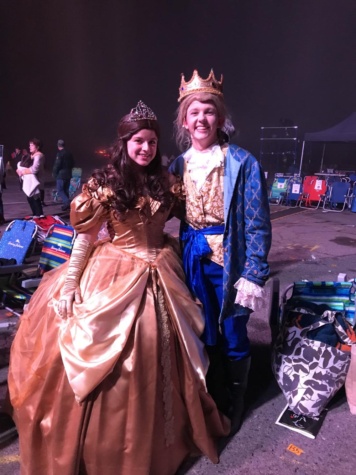 McCleary's portrayal of The Beast illustrates the transformation of a hideous, shallow, desperate man into a beautiful, loving, grateful Prince as Kopenhefer's Belle teaches him what it means to love yourself and to care for others. The two's onstage chemistry grows throughout the play, ending on a beautiful note.
Musically, Kopenhefer stood out. Hitting high notes and nailing her falsettos, her voice rang out beautifully among the audience. Everyone could be heard applauding for Belle.
But the audience didn't leave the play without thinking about Lumiere or Gaston. Although only supporting roles, these two stole the show with their larger-than-life stage presence. Hallinan's portrayal of Lumiere was spot on, mannerisms replicating that of a true playful French rapscallion. Gaston, played by Croft, impressed us with his dance moves and large biceps. His booming voice and powerful expressions left all the ladies swooning (myself included). 
Though there were plenty of talented characters, my personal favorite was Mrs. Potts. Tanner Lloyd's solo of "Tale as Old as Time" is sure to summon a tear or two as her voice projects into the crowd, setting the romantic final ballroom dance scene. Her loving character captures the hearts of all those watching, creating the sense of familiarity of that of our own mothers.
While I don't want to spoil anything, I will say that the ending had me crying just a bit.
Still, amidst the COVID-19 pandemic, SCHS Drama has found a way to avoid performing in an enclosed space and keeping audiences safe: the outdoor stage.
The outdoor venue sports a beautiful stage, with professional lighting and a wonderful sound system. Many donors and members of the Drama program spent a lot of time, money, and effort into building the stage and making it performance-ready. Since they were able to build it, they were able to have a larger platform than in the Triton Center. And because it is outside, this also makes for a larger audience, which of course means an even livelier crowd.
"I loved the outdoor setting. It let so many people come and watch and the sound really projected out into the audience," senior Cora LaFollette describes. "It was so nice cozying up with a chair and blanket and just enjoying the show."
Overall, SCHS Drama's Beauty and the Beast was a pleasure to watch and I enjoyed every moment of it. If you haven't gotten the chance to watch the play, I highly recommend trying to catch a showing. There are two more shows: Friday and Saturday both starting at 7 PM, but entrance opens at 6:15. If you are interested in buying tickets, reserve seats or purchase general admission tickets online or even onsite prior to the show!
SCHS Drama will premier Footloose next spring.