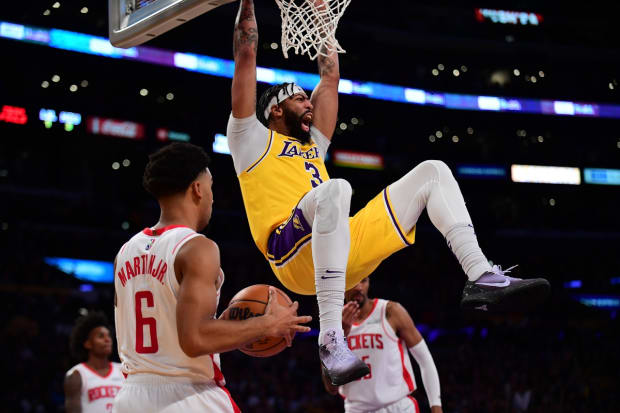 Ben Cooper | Sports Editor
November 5, 2021
The NBA season is underway, and it is primed to be one of the most competitive seasons yet. There are a plethora of very talented teams after an active offseason. Award races are often very tight in the NBA, and this year looks no different. With that said, here are predictions for the awards in the NBA.
Most Valuable Player: Anthony Davis
Anthony Davis is set to have a career year after a disappointing campaign last season. This year, Davis is on fire with an average of 25 points per game along with 11.1 rebounds and 2.4 blocks. He has put himself square in the MVP conversation with his production.
"Anthony Davis has a really good chance at winning MVP this year," senior Justus Timmerman said. "Even with LeBron being the best player on the team, AD is just as crucial. He's dominant on both offense and defense, making him a versatile player. Davis is a strong contender for MVP."
With the addition of another playmaker in Russell Westbrook and the presence of Lebron, Davis should get plenty of opportunities to score and lead this Lakers team. Look for Davis to take home the MVP award in his best season yet.
Defensive Player of the Year: Anthony Davis
While Davis is a top MVP candidate, he has a better chance at winning Defensive Player of the Year. He is one of the premier rim protectors in the NBA, and has the versatility to play perimeter defense.
Davis is the leader of the Lakers' defense and prides himself on the defensive side of the floor. It's not uncommon for a player to win both MVP and Defensive Player of the Year, as Giannis Antetokounmpo did it just two seasons ago. 
Look for Davis to accomplish the same feat and win the Defensive Player of the Year award.
Rookie of the Year: Jalen Green
Jalen Green has kicked off his NBA career with some excellent performances for the Houston Rockets. He hasn't shot at a high efficiency thus far, but has put up 14.6 points per game. 
"I think he has a chance to win Rookie of the Year given his ridiculous scoring potential," senior Kristian Rorvik said. "As of right now, he is only a scorer. If he can get his average up to around 20 points per game, he has a shot, but Scottie Barnes and Cade Cunningham have a better shot due to their well-rounded games." 
The Rookie of the Year race will be tight, and it will be any player's game. An advantage for Green is that he is on a rebuilding team that will focus on his development, giving him plenty of opportunities to showcase his talent.
6th Man of the Year: Tyler Herro
Tyler Herro has been putting up elite numbers off the bench to start the season. He has been a reliable scorer and has contributed in other categories. So far this season, Herro is averaging 20.4 points per game along with 6.1 rebounds and four assists. 
He has been a big part of the Miami Heat's early success as they sit at second in the Eastern Conference. Herro is having a breakout season and is becoming a star, and has put himself in a great position to win the 6th Man of the Year award.
Most Improved Player: Jordan Poole
Jordan Poole has played a significant role for the Golden State Warriors this season. With Klay Thompson out until at least December, Poole has slid into the starting lineup alongside Stephen Curry.
Poole's numbers have jumped from last year to start the season. He is averaging 16.4 points per game along with 3.6 assists.

When Thompson returns, Poole will still have a pivotal role as the 6th Man and will continue to put up good numbers.
Coach of the Year: Billy Donovan
The Chicago Bulls have had a great start to the season with a record of 6-2. Coach of the Year is an award that often goes to teams that make a big jump from their previous record. Last season, the Bulls finished 31-41 and missed the playoffs.
Billy Donovan has helped the new-look Bulls get going early. The additions of DeMar DeRozan, Lonzo Ball, and Alex Caruso have blended well with Zach LaVine and Nikola Vucevic. 
If the Bulls keep it up, Donovan should come away with the Coach of the Year award.
This NBA season is bound to be tremendous, and the award races should be tight contests.