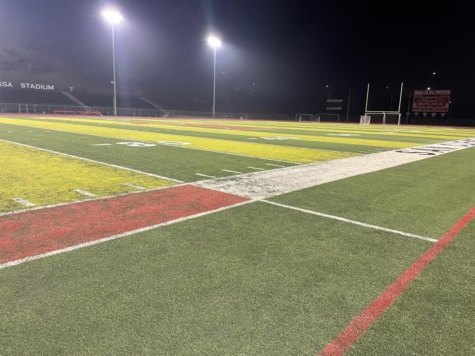 Talie Folsom | A&E Editor
December 2, 2021
San Clemente high school has started working to renovate the turf on the football field. As the football season came to an end, many players began to notice that the turf felt slippery, especially in specific areas of the field. After closer observation,  it was discovered that the infill (the small plastic pellets) of the field had melted together, causing more issues to the turf.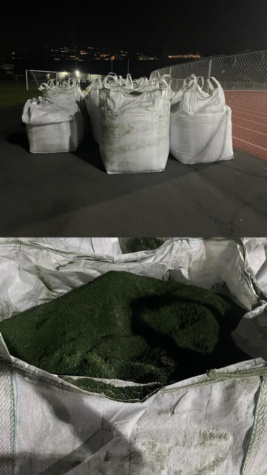 "During football season, the turf was so slippery that our team nicknamed it 'ice'," said senior and varsity football player Asher Gardiner. "The red 'T' in the middle of the field and endzone were so slippery that we had to game plan about it." The team had a variety of issues to the point where they had to run specific plays in different areas in order to prevent excessive sliding.
The quality of the field is important to the high school athletes, so quick changes needed to be made. Over Thanksgiving break, melted infill was vacuumed up and many bags were filled with the old pellets. The green infill was then replaced with a new black infill.
After getting brand new turf in 2017, there have been many comments throughout the school about how appealing the field looks compared to how it used to look. With the new black infill, it does seem to make the field look different from the bright-looking field we were used to due to the black pellets showing through. The discoloration due is especially apparent in the red and white areas of the field. 
Nevertheless, what really matters is how the field affects the athletes and the game. "At lacrosse, we practiced on the new field," said senior and lacrosse player Grace LaMarre. "The turf felt a lot more bouncy, but it definitely was less slippery than it was before." It seems that so far, the refurbished turf seems to already be functioning better, and there is still talk of making more improvements. 
Overall, the decisions made were to continue to improve and benefit the athletic community at San Clemente High School. As we get closer to the second semester, the field quality will be especially significant as the spring sport athletes embark on the beginning of their seasons. Go support your Tritons, and let's all hope to see less slipping in the spring!