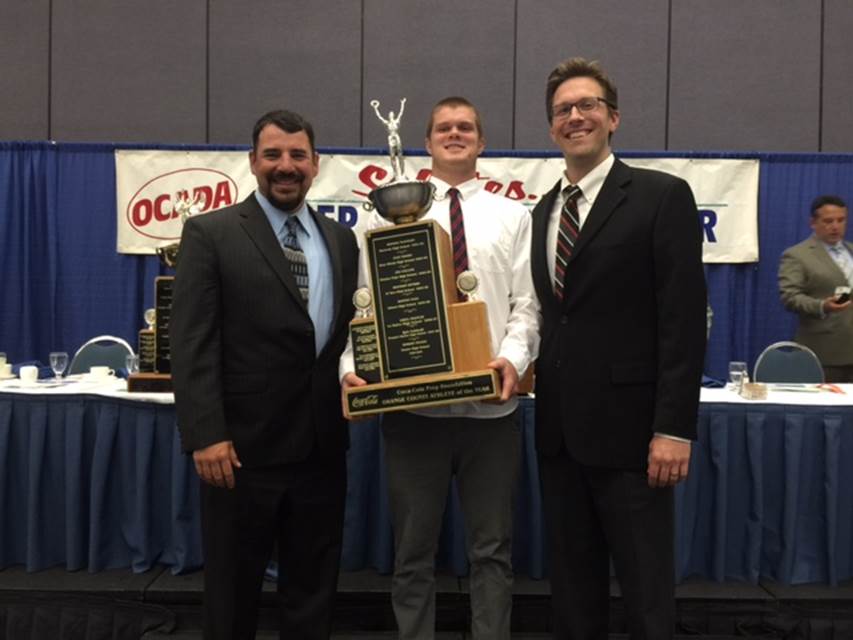 By Rhiana Neidermayer | Writer/Photographer
May 29, 2015
On Tuesday, May 26th 2015, Triton superstar in football and basketball Sam Darnold was honored as the Orange County Male Athlete of the Year by the Orange County Athletic Directors Association.
The 6'4″ senior stood a head above the rest in the fall, leading the Tritons to a Sea View League Championship and runner-ups in the CIF-SS Championship game. On the season, Darnold  threw for 2,985 yards with 39 touchdowns at a 69% completion percentage. He also chipped in on the ground rushing for 785 yards and 13 touchdowns.
On the hardwood, Darnold again led the San Clemente basketball team to an undefeated league title (South Coast), averaging 15 points and 9 rebounds per game.
In the 50 year history of San Clemente High School, only two other athletes have shared in this award: Tim Burnette (1997-2001) for football and basketball and Gabe Gardner (1991-95) for volleyball and water polo.
This award for Darnold caps off one of the most decorated athletic careers in Orange County history, including San Clemente. Darnold is currently to play football at the University of Southern California (USC) in 2015.