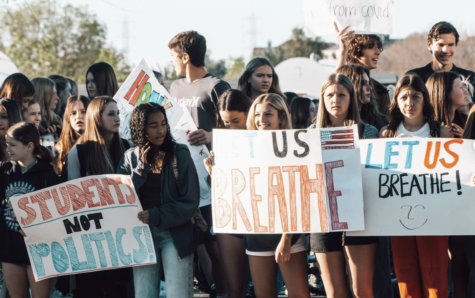 Brookelynn Hodgin | Writer
12 February 2022
On Thursday, San Juan Hills High School students could be found up on the hill above their campus filming a video for their anti-mask—oh sorry, I meant "pro-mask choice"—campaign they call Student Choice Mask Group. On Tuesday, many students were posting to Instagram and Snapchat, encouraging their peers to politely refuse to wear a mask in class per state mask mandate. On Wednesday, many students did just that, and they were asked to leave campus.
All around Orange County and Southern California schools, in elementary, middle, and high schools, protests, walkouts, and "civil disobedience" are beginning to catch fire.
Young children are not capable of possessing a nuanced and individually crafted opinion on the mask mandate that would move them enough to protest. In many cases, it is the parents' concern—and not the child's genuine discomfort—that leads to mask protests in schools. However, even the protests among older students show a lack of awareness of the issue.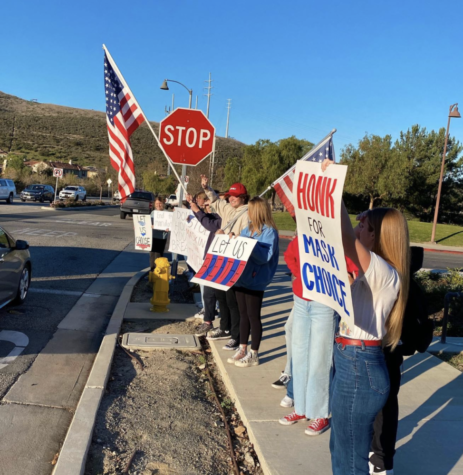 Numerous students could be seen manning signs like "We choose freedom" and "We wanna see your smile." But one of the more popular signs, which has seemingly become the unofficial slogan for the movement, "Let Us Breathe," has sparked controversy and outrage with many students who disagree with the protests.
February being Black History Month, many connected an irony with the slogan and police brutality on POC, specifically within the black community. When George Floyd was murdered in May 2020,  tapes were released that revealed Floyd begging for his life, gasping out "I can't breathe" as Officer Derek Chauvin kneeled on his neck for seven minutes. BLM and those protesting against police brutality repeated the quote. Juxtaposed from the "I can't breathe" protests over systematic killings of black men by the police, using the phrase "Let Us Breathe" over having to wear a piece of light cloth over the mouth, as if it were oppressing the right to breathe, is tone-deaf and ignorant.
Many anti-mask mandate posts, such as one circulating through the Instagram posts of Moms on the Ground, an anti-vaccine mandate grassroots movement, paint the refusal to wear a mask as a courageous act that aligns students with heroes who stood up for their rights such as Rosa Parks, Anne Frank, and Martin Luther King. It is ludicrous to compare protesting a mask mandate, which is non-discriminatory, to protesting a violation of civil rights, freedom of religion, and a violation of one's life. Anne Frank was murdered in the Holocaust, as were six million others, because she was Jewish and living under the Nazi regime. So no, protesting masks is nothing of courage in comparison to Anne Frank and all other heroes throughout history who fought until the end for their right to live.
Another popular picket seen in protests, as well as one of the only facts the movement seems to cite in their defense, is "Only .001% of children die from COVID." While that may be true, that doesn't shift the impact of those lives lost due to the pandemic. A death is not just a number or a statistic, but a cataclysmic event for a family, friends, and community. To water it down to a percentage completely undermines the extremity of the situation and devalues the lives taken from COVID-19. 
COVID-19 is a deadly viral infection that has killed nearly one million Americans and over 80,000 Californians. Further, all Californians, regardless of vaccination status,  are mandated to wear masks in schools. The mandate was not put in place to oppress students, teachers, or visitors, but to protect those on campus and mitigate the spread of COVID-19. Our healthcare system—which is already tirelessly overwhelmed, understaffed, and fluctuating in and out of max capacity due to case spikes—greatly benefits from the use of masks. 
Masks aren't intended to strip anyone of their freedom. They are designed to protect those around us—those we love. Failing to realize that and trying to disprove and dismantle that isn't just ignorant—it's a choice that comes from a position of privilege and entitlement.
This has nothing to do with bodily autonomy and everything to do with keeping people safe. You aren't being oppressed. People are dying, and masks aren't the killer—Covid is.