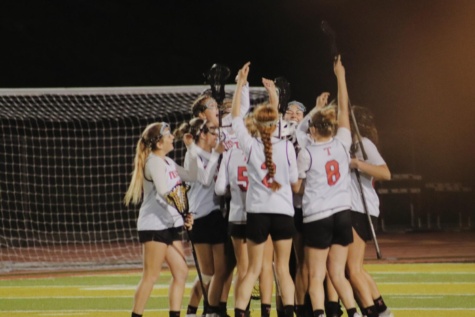 Amy Parr | Head Editor
March 11, 2022
Forget about football season, it's GLAX time at San Clemente High School! The girls' lacrosse team, known for their threatening sticks and sparkling personalities, are ready to take the field by storm this spring. Led by Triton Times' very own Brookelynn Hodgin, the varsity team shares a passion not only for the sport itself but for the tight-knit community formed by the players.
"GLAX has an encouraging community that many sports don't have," four-year varsity starter Teresa Yubeta said. "Even though it's a competitive sport, all of the girls are uplifting and supportive and the bonds between the girls on the team are authentic."
Anyone who has ever played a competitive sport knows how this aggression can sometimes prevent real friendships from forming, but our favorite GLAXers have no intentions of letting the competition stop the fun. This commitment to both athletics and the community should appeal to anyone looking to start a new sport. Joining any high school sport can be daunting, particularly one as physical as lacrosse, but the environment created by returning players makes freshmen feel right at home.
"My favorite part about joining the girls' lacrosse team is definitely the girls and the coach," freshman Claire Massimiri said. "They always make it fun, even though it can be very physically challenging running up and down the field over and over again."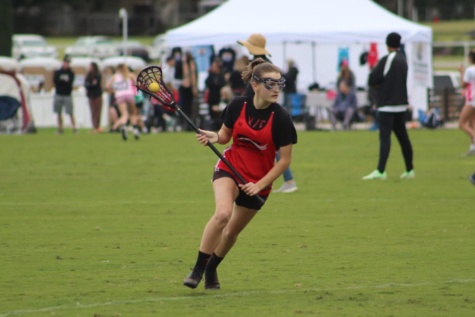 "I would highly recommend GLAX to incoming freshmen because when freshmen are new to campus, GLAX is a group of welcoming people that will be your best friends for the next four years and potentially past high school," Yubeta added on. "When I was a freshman, it was nice to know there was a group of girls that was always there for me."
Although league games have yet to start, the nonleague games are currently in full swing, and the varsity team is already showing promise by coming home with a championship title from the annual Santa Barbara Showcase. The first league game is March 22, when San Clemente will take on its rivals, the San Juan Stallions, at San Juan Hills High School at 5:30. San Clemente High School is known for its enthusiastic crowds at sporting events, and GLAX is more than ready to run onto the field to greet roaring fans.
"People should come support girls' lacrosse this season because it's super exciting and even though you might not know the rules, it's easy enough to follow and cheer us on," Massimiri said. As with most sports, lacrosse has an abundance of obscure rules, but this helpful guide simplifies lacrosse to make it easily understandable and enjoyable for anyone in the stands. Whether you're a lacrosse aficionado or simply want to support a great group of girls, be sure to pack the stands and support San Clemente's GLAX team this spring!