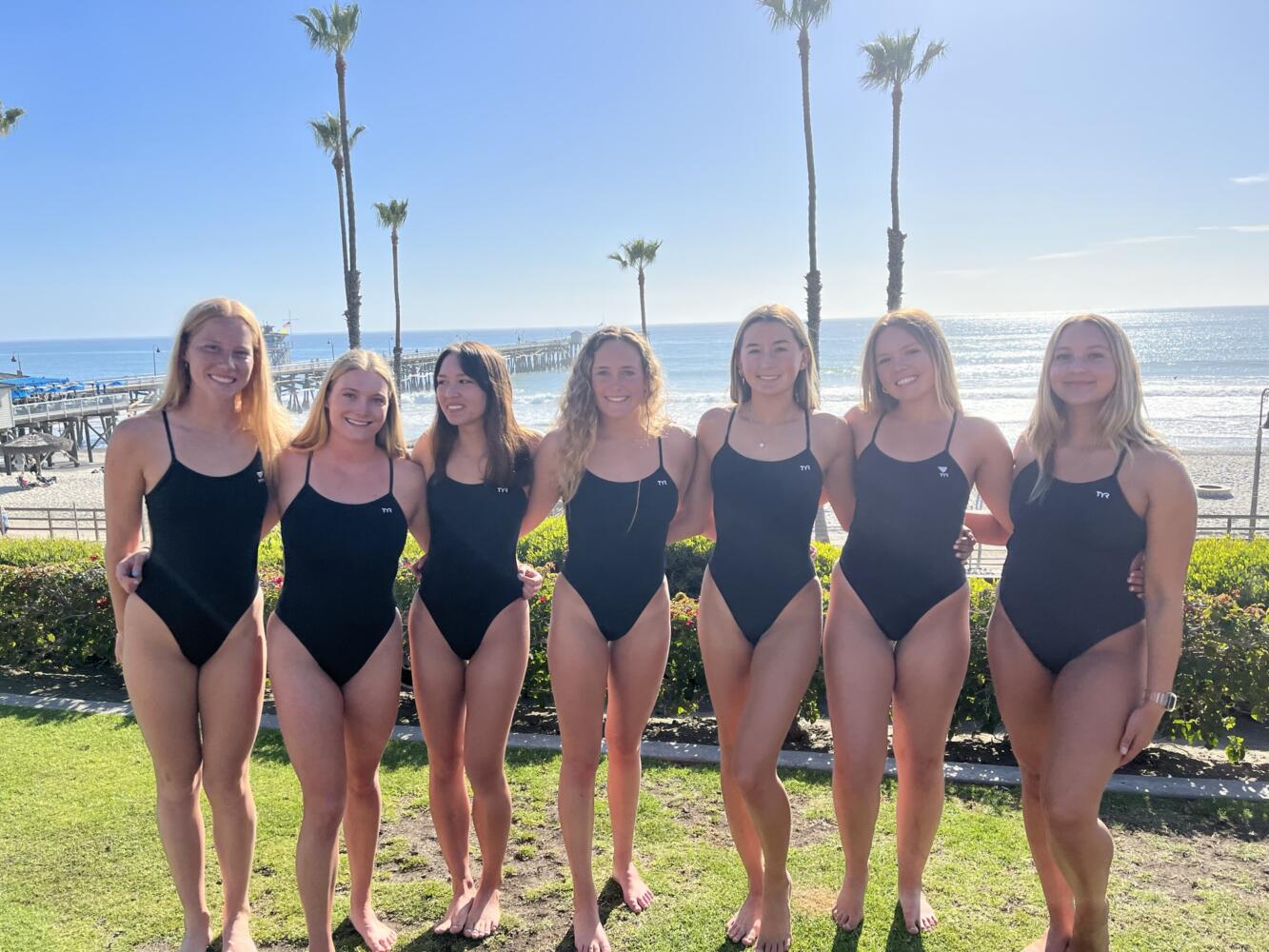 Ruby Hawbecker | Writer
March 19, 2022
The San Clemente Triton girl's swim team started the season off strong with a league win against Dana Hills. On Tuesday, March 15, San Clemente ended with 625 points in their events overall, beating Dana by over 400 points. More success can be accomplished throughout the season by "the physical component of setting conditioning goals and yardage expectations," according to the Girls Head Coach Andrew Salway.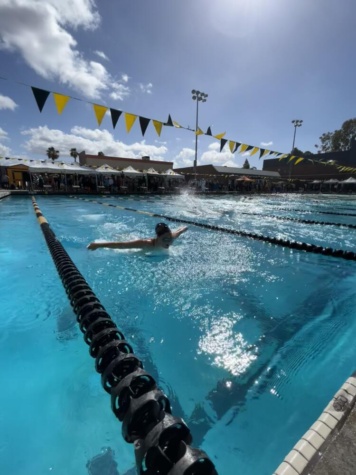 Swim team is a physically and mentally demanding sport that requires constant commitment, energy, and time. Some may deem it 'boring' due to the monotony of following a black line on the bottom of the pool, but Salway addressed this perspective. "I have found ways to keep the training focused so there is always something to be cognizant of while swimming," Salway said. In his ten years of aquatics coaching, Salway explained that there is great importance in returning drifting minds to a skill or discipline that can be focused on.
To prepare for the next few weeks of league, Salway said that he is taking on "the complex process of intentionally creating an inclusive and inviting team environment, and encouraging girls to take on new challenges."
Team members are also excited to see the season off to a good start and appreciate this community effort. "Swim season has been a lot of fun so far," junior and varsity swimmer Halia Fleming said. "It's my favorite time of the year since I get to swim alongside my closest friends and teammates whom I don't typically see at club practice. To me, swimming is a way to escape from anything that may be stressing me out. Although workouts may be difficult at times, I look forward to seeing my friends every day and having new opportunities to form bonds and create new memories."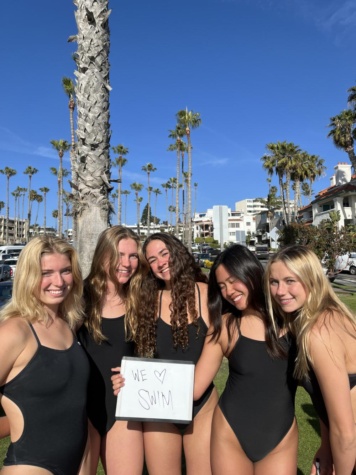 Fleming mentioned the love she is regaining after losing motivation for a few months. "My initial goal for the season was to really reconnect with swimming after a falling out during the fall and winter season," she said. "Even though the season isn't over yet, I'm thrilled to say that I've already done just that. After battling a burnt-out mindset, this new season really encouraged me to make the most of what I have and appreciate everything that swimming provides for me."
Due to Covid, and many sports' seasons being cut short, it has been difficult for athletes to stay motivated and keep pushing to be better, but this swim season is proving to be a step in the right direction.
Coach Salway's main goal for the season is to help each and every athlete realize their own potential. Junior and varsity swimmer Maddie Phillips mirrors this positive mindset. "Swim season has been so much fun so far," Philips said. "Swimming means so much to me, I have so much appreciation for the sport, making new friends, and competing! This season my goals are to get to know everyone, swim fast, post best times, and place in the top three at CIF." Many swimmers can relate, hoping to improve throughout the season.

Overall, the swimmers and their coaches look forward to an eventful season filled with improvements and accomplishments. Make sure to wish the Tritons luck in their upcoming meet against Long Beach Wilson!