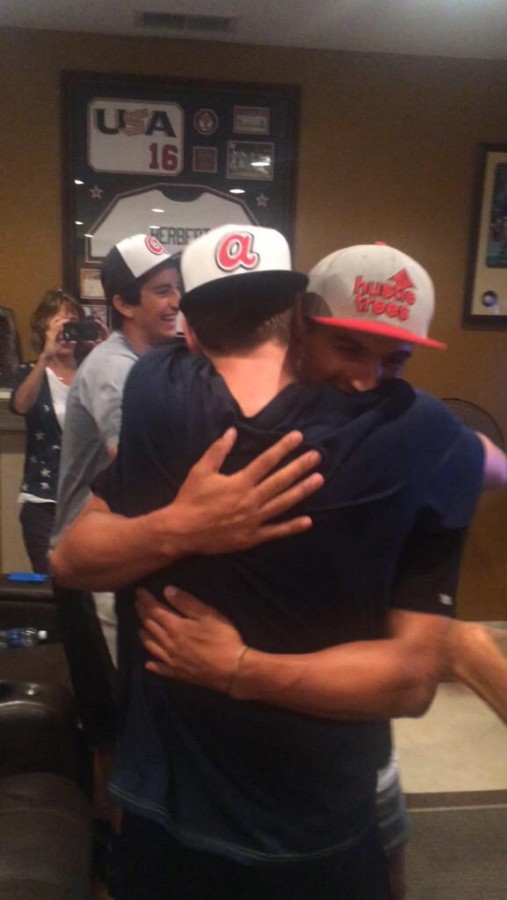 By Taylor Beard | Sports Editor   &   Martina McAllister | Writer
June 14, 2015
As the 2014-15 school year is coming to an end, many of the seniors are making huge life choices, whether it is going to college or chasing their dream elsewhere. For two of our very own Tritons, they were able to accomplish their lifetime goals: being drafted into Major League Baseball.
Seniors Kolby Allard and Lucas Herbert embrace after having been drafter in the first and second rounds, respectively, of the MLB Draft .
Nn June 8, 2015, seniors Kolby Allard and Lucas Herbert were both selected in the 2015 MLB Draft to play for the Atlanta Braves. An exciting journey awaits these two boys as they prepare for everything that comes with playing professional baseball.
"The room bursted into excitement as my name was announced, it was pretty awesome," Kolby Allard said.
Allard was drafted the 1st round, 14th pick overall, and expects to sign for well over $3,000,000. Allard owns a left hand of pure gold who's fastball hits 94-97 mph on a regular basis but unfortunately, he was not able to pitch much of his senior year for SCHS due to a stress reaction in his back.
"Being drafted with my best friend is the best thing I could of asked for," Allard said of being drafted a round before Herbert. "I can't wait to get started!"
Herbert was in the 2nd round, 54th pick overall. Herbert is a defensive stalwart catcher who also boasts an impressive batting average of .417 with a total of 50 hits and 20 homers in this, his historic senior year season.
"Not only did I get drafted to my number one team," Herbert said, "but I also got drafted to play with my best friend."
Both of these boys are considered to be the "Dynamic Duo" who were committed to UCLA earlier this season. The Braves are hoping that they are "keeping the battery together" and both boys will enjoy continued success.
Both of these boys have worked to achieve this goal ever since they could remember. Lucas and Kolby have played together all through high school and on the USA baseball team.
Having a great last high school season with winning the NHIS tournament out in North Carolina, South Coast League Championships, making it to the semi-finals in CIF, and now completing their dreams of being drafted, these boys have a bright future ahead of him. Let's cheer on our boys next season as they represent our town in Atlanta!