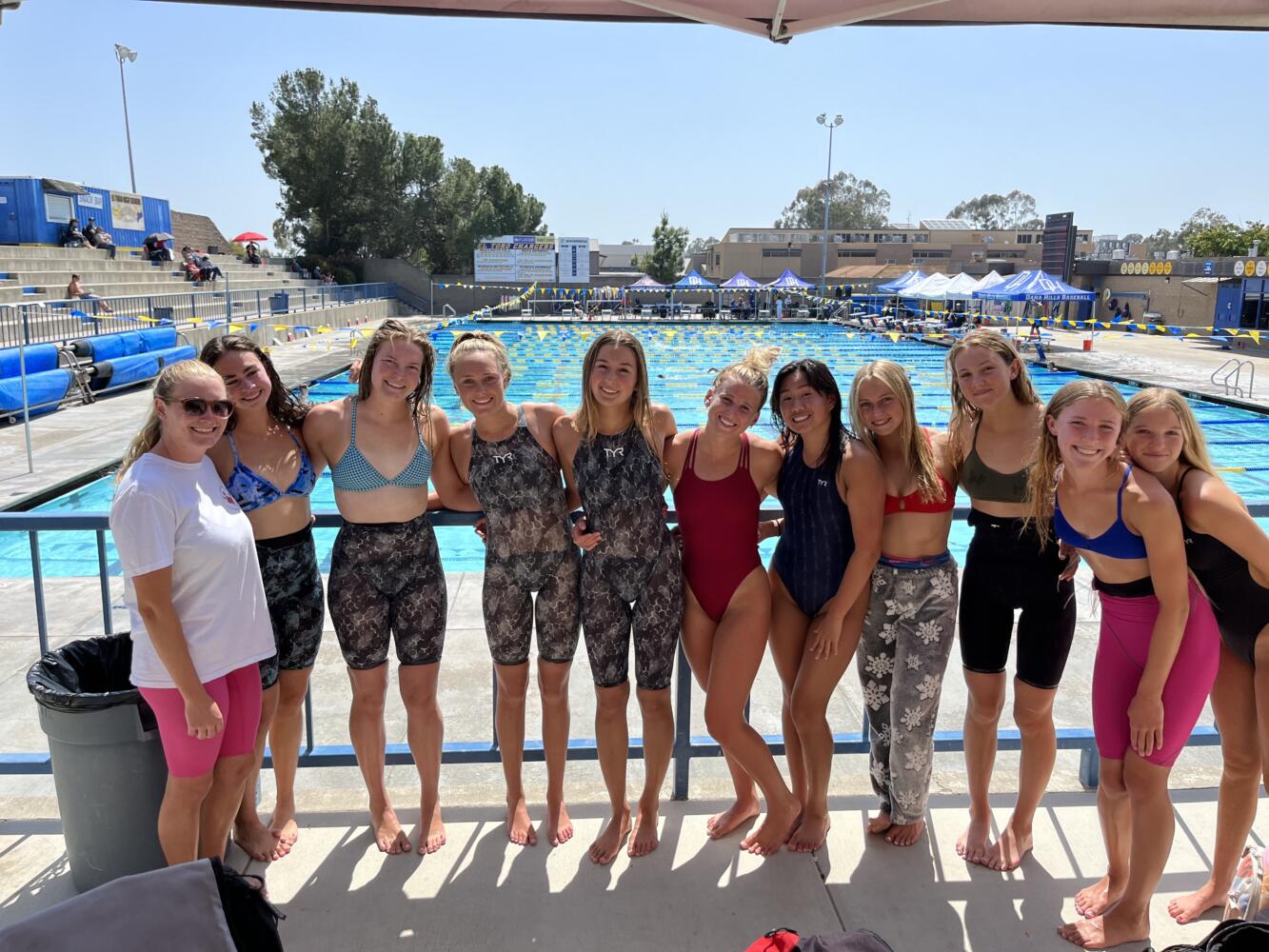 Helene MacBeth | Writer
April 29, 2022
After a long and difficult season, Girls Swim has come to an end. Excepting the few swimmers who qualified for CIF, the swimmers ended their season with a successful league finals, defeating Aliso Niguel and Dana Hills by a large margin, and narrowly losing to Tesoro. 
Despite their predicted standing of losing to Tesoro by around 50-100 points, the girls were able to narrow the gap to just 29 points. Most swimmers were successful in earning themselves a personal record in at least one of their events, meaning that they improved the swim times that they had previously achieved throughout the season. 
"I'm happy with all of the smiling faces on the team, and we all dropped time, so we did the best we could," senior and Girls Swim co-captain Hanna Willemsen said. "And at the end of the day, we had fun, which is the most important thing." 

Throughout the meet, swimmers were seen smiling and cheering for one another, demonstrating their love of their sport and their desire for teammates to perform to the best of their abilities. "I really enjoyed swim season because I was able to motivate my fellow teammates to race hard and to keep pushing," senior and co-captain Brenna Benham said. "I'm sad that I probably won't swim competitively again after twelve years of hard work, but I'm proud of the team's strong finish and improvement throughout the season."
This improvement can be seen with freshman Grace Meier's time drops. Though she had a swimming background, she had just finished water polo season when she started swim again. She started strong, but with further improvement throughout the season, she ultimately achieved her best times during league finals. "Today, I am very happy with my individual performance because I beat all of my times," she said. 
Because the swimmers came in second place, there was some initial disappointment about not winning. Still, the team felt proud of the fact that they had done much better than they were expected to do. At one point in the meet, the Tritons were even beating Tesoro temporarily, which was definitely unexpected. "I do wish we had won the whole thing, but I think we did well overall and we tried our best," Meier said,"though we still beat two other teams, which is definitely an accomplishment."
"I know Tesoro was stressed during that meet, and that makes me proud because they thought they would blow us out of the water," Willemsen added. 
With a successful finish and a season filled with hard work and dedication, the swimmers had an overall positive outlook on the season. Most of the team looks forward to furthering their swimming careers, though the seniors will be missed.