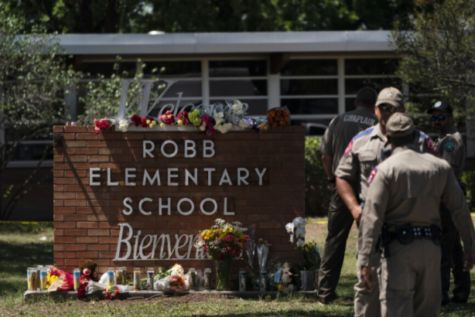 Daniella Flores | Writer
May 27, 2022
On Tuesday morning, 19 children were killed at Robb Elementary in Uvalde, Texas in one of the deadliest mass shootings in United States history.
Earlier this month, on May 14, a gunman opened fire in a supermarket in Buffalo, New York and killed ten people. Only a few minutes away from the scene of the shooting in Laguna Woods, New York, a second gunman killed one person in a church shooting the following day. The Robb Elementary shooting makes the third time in ten days that Americans were shocked by devastating news of a shooting.
It was the deadliest school shooting in the United States since the 2012 attack on Sandy Hook Elementary School in Newton, Connecticut. Sandy Hook saw the loss of 20 children and 6 adults. 
The Robb Elementary gunman, identified as 18-year-old Salvador Ramos, had posted his intentions online before taking to the fourth-grade classroom where the fatalities and injuries occurred. 
Ramos was known by many in the community as an increasingly troubled teen who was bullied for a speech impediment. 
Lt. Christopher Olivarez, a Texas Department of Public Safety spokesman, explained that officials are still trying to determine what exactly Ramos' motive was. 
The rampage started when Ramos shot his 66-year-old grandmother, Cecilia Martinez Gonzalez, in the face at her home in Uvalde. Minutes later, Ramos was spotted crashing a truck into a ditch and heading towards the school with a rifle. An officer with the school district of Uvalde had engaged with the gunman before he entered the school. After 40 minutes to an hour, the gunman entered through the backdoor of the school and walked down two small hallways until he found a classroom where he opened fire. Ramos was shot and killed by a border patrol officer.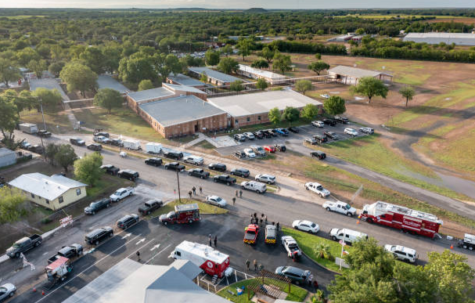 More than 100 federal officers responded to the events at Robb Elementary. 
According to Texas governor Greg Abbott, Ramos was a high school dropout with no criminal record or mental health history.
About half an hour before Ramos reached the school, he posted on Facebook that he had plans to shoot his grandmother. In his second post, he wrote: "I've shot my grandmother." Fifteen minutes prior to reaching the school, Ramos posted: "I'm going to shoot an elementary school."
The tragedy occurred in Uvalde, a predominantly working-class Latino city of about 16,000 people which lies approximately 50 miles from the Mexican border and 30 minutes from San Antonio. 
Parents sat for hours in a Uvalde civic center to receive DNA swabs to help identify victims. Ramos left 19 children unrecognizable. 
"It is impossible for me to wrap my mind around something so evil as to go and kill children, or anyone," San Clemente High School junior Tessa Campbell said. "Clearly we have mindless leaders who are incapable of making a change at this time. They are too busy worrying about women's bodies."
Will this school shooting finally be the one to provoke change? Probably not. If a massacre that killed five and six-year-olds 10 years ago didn't change anything, what will? When will Americans finally realize that to passively watch children not make it past fifth grade because they were shot is inhumane?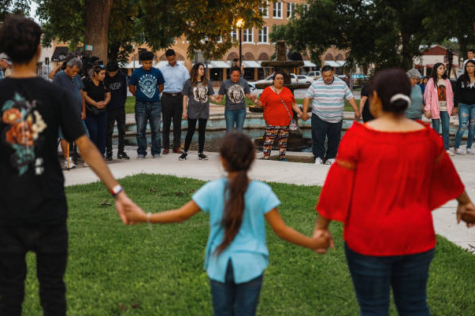 "I am beyond disappointed that nobody cares to change the corrupt system that we have when it comes to gun control," senior Jenna Garvey said. "Kids should not have to wonder if they are going to come back from each school day alive." 
Many Americans have become desensitized to news headings that read of school shootings. We cannot allow ourselves to become numb to such horrific acts. There are dozens of bills and laws waiting to be passed that would prevent further tragedies, but senators feed off of the power ties they have with the NRA. So, when will money and power come second to the life of a child? 
Eva Mireles, 44, and Irma Garcia, 46, have been named as the two teachers killed in the attack on Robb Elementary.
The identities of the children have been confirmed as eight-year-old Uziyah Garcia; Eliana "Ellie" Lugo-Garcia, aged 9; 10-year-olds Amerie Jo Garza, Makenna Lee Elrod, Xavier James Lopez, Jose Flores, Navaeh Bravo, Alithia Ramirez, Alexandria "Lexi" Rubio, Eliahana "Elijah" Cruz Torres, Tess Marie Mata, Rojelio Torres, Layla Salazar, Maite Rodriguez, cousins Jailah Nicole Silguero and Jayce Carmelo Luevanos, and cousins Jackie Jaylen Cazares and Annabelle Guadalupe Rodriguez; and 11-year-old Miranda Mathis.