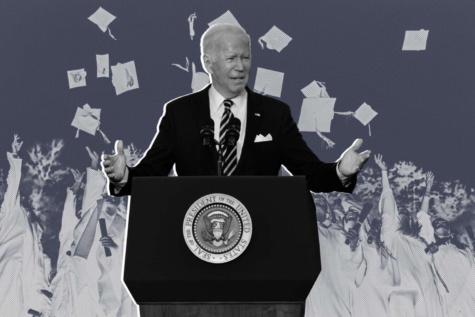 Daniella Flores | News Editor/Publicity Manager  &  Sophie Echternach | News Editor
September 3, 2022
In his campaign that won over America, President Biden promised a relief plan to aid students from low-income families to pay off their college loan debt. With mixed reactions from Americans across the country, Biden promises this college loan debt relief plan will benefit 43 million Americans who make under $120,000 annually. 
Since 1980, the total cost of four-year public and four-year private colleges has nearly tripled, leaving many low-income and middle-class families to borrow money for a degree. The Department of Education analysis has reported that the typical undergraduate student now graduates with nearly $25,000 in debt. 
America's current cumulative federal student loan debt is $1.6 trillion and rising for more than 45 million borrowers. Nearly one-third of borrowers have no degree because the cost of attendance was too high. With roughly 16% of borrowers in default, the government has the power to garnish their wages or lower a borrower's credit score. 
The Biden administration contains three different parts: 
Provide targeted debt relief to address the financial impact of the pandemic. The Department of Education will provide up to $20,000 in debt cancellation to recipients of pell Grants and up to $10,000 for non-pell grant recipients. If a borrower's individual income is less than $125,000, they are eligible for the relief.
Change the student loan system to be more manageable for current and future students. The Department of Education is proposing a new income-driven repayment plan which will cut monthly payments in half for undergraduate loans. The average student loan payment would be lowered by more than $1,000 for current and future borrowers.
Protect future students and taxpayers by reducing the overall cost of college and holding schools accountable for their rising tuition costs. The administration is responsible for the largest increase in Pell Grants in over a decade and one of the largest influxes to colleges and universities. The President will continue to try and double the maximum Pell Grant and make community college cost-free.
Since announcing the plan on August 24, millions of Americans have vocalized their opinions on how beneficial the student loan debt relief program will be.
"I don't think his [Biden's] plan is very smart because so many more people are still trying to recoup from money and income lost [during the pandemic] and he could put those billions of dollars into lowering taxes," senior San Clemente High School Gavin McCaig said.
While individual taxpayers won't be affected by the motion of this plan, many people are expressing their ideas on how the money could be spent in ways that would improve conditions for all students as well as reduce the number of loans given rather than benefit a single group of people.
Senior at SCHS, Sam Sherreit commented on the student debt relief plan saying, "I'd say that he should invest more money into areas that affect the most people and make learning as comfortable and convenient as possible, like ensuring that all classrooms have proper air conditioning and projection equipment."
The majority of America seems to agree with Gavin and Sam, however many people are in support of the relief plan with the hope that this will be a gateway to all student debt being paid as well as excitement for those students who will have a "weight lifted from their shoulders."
The student loan relief plan will help millions of Americans, something that has been needed in this country for decades ago. While not everyone is getting the relief they need from student loans right now, the attention being brought to this issue in this plan is one stepping stone toward all Americans being able to further their education without being hindered by debt.